The Awful History Behind Why Hipsters Think It's OK to Wear Headdresses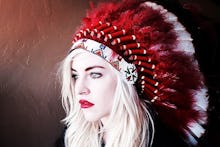 When Christina Fallin, the lead singer of indie electronica band Pink Pony (and daughter of Oklahoma Gov. Mary Fallin), posted a photo of herself to Instagram in March wearing a Native American headdress with the caption "Appropriate Culturation," the social media and Internet backlash was swift. Flaming Lips drummer Kliph Scurlock protested her stupidity. In a seemingly unrelated move, he was summarily fired by the alternative rock band.
Last week, though, the story came to light again. In a statement, Scurlock explained that: "I was fired for telling Christina to go fuck herself after her lame-ass 'apology' when people got upset at her stupid headdress photo." Wayne Coyne, a friend of Fallin's, wouldn't let it stand. Six days later, Fallin went onstage with her band at the Norman Music Festival. There were protesters in the crowd, demanding an apology. Instead, they got Fallin wearing a handmade shawl with the word 'SHEEP' stitched in the back (she has since claimed it was an attack on journalists exaggerating her actions). Her mother — and her band — apologized almost immediately.
Image Credit: Christina Owen.
Whatever her reason for the shawl, Fallin isn't alone in this. Recently, popular music has really been sticking it to people who care about Native American culture. A few weeks ago, Coachella was crawling with hipsters wearing Native American headdresses, renting teepees for a small fortune and Instagramming it all. We're reaching a fever pitch of outrageous cultural appropriation.
At Fallin's concert, someone was holding a sign that read "Don't trend on me." But this isn't a recent trend — it's a problem America has encouraged for decades, and one with a deep musical past.
Image Credit: Instagram.
A long time ago, popular culture, the film and TV industry, the music industry and the general public decided that appropriating Native American culture such as the headdress was no big deal. It was common place. It was everywhere — in comics, on TV shows and popular movies, on playgrounds in games of Cowboys and Indians and shouts of "Indian Giver!"
The fact that Native Americans might take great issue with having their ancient cultural and spiritual heritage assimilated, misused and turned into pop culture fashion for sale has never really been discussed nor appreciated in a manner that would solicit real awareness because it's been taken for granted in our popular culture for so long.
Image Credit: Fury Comics.
That cultural appropriation has a deep root in music, specifically. Country Western music picked up where Westerns left off in its stereotyping of Native Americans. This kind of representation was dominant in the '50s and '60s. Just look at older country songs like Hank Williams' humorous Indian love ballad "Kaw-Liga." In fact, country music used Native- American stereotypes so heavily that in 1964 Johnny Cash felt compelled to record an album called Bitter Tears, comprised entirely of "Indian protest songs."
But even though Cash was at the height of his popularity, Columbia Records refused to release the LP, stating that it was not commercial enough. Privately, it was understood that many local radio managers and DJs considered the content "un-American" and were refusing to play it before its release. A very public fight ensued, culminating in its release, but with almost no support from Columbia. The record languished. So there you have it: resisting cultural appropriation is un-American.
"Music lies at the heart of Indian culture. From birth to death, all occasions, sacred and secular, personal and tribal, in the life of the Plains Indian are inextricably intertwined with musical performances." - The Encyclopedia of the Great Plains
But when, in 1969, pop group The 1910 Fruitgum Company released an album titled Indian Giver featuring a cover with each member wearing a different Native American headdress, no one complained like they had about the Cash record. The title song reached No. 5 on the Billboard chart. For the decades following, Native American clothing and similar references plagued rock as a poor, commercialized symbol of 'spirituality.' 
Image Credit: Buddah Records.
Fast-forward half a century of social and political achievement, and approximately nothing has changed. In 1994, Tim McGraw released a song called "Indian Outlaw." It was a pop crossover hit; the fastest rising country single since Billy Ray Cyrus's "Achy Breaky Heart." And it was every bit as stereotypical as it sounds. In 2012, Gwen Stefani's No Doubt, no strangers to controversy cashed in on some Native American cultural appropriation in a video. There's all those indie music fans supporting Urban Outfitters in its pursuit of the mysterious Navajo. And of course there are these picture from Heidi Klum a couple of weeks ago:
Image credit: Facebook
We need to wake up to why this matters.
For centuries, Native Americans have watched their culture disappear, its meaning and importance misunderstood, vilified and sold. It isn't hard to understand why Native Americans would want the significance of a headdress preserved — it's a spiritual item, used in musical rituals that help define Native American culture. If you wouldn't wear a yarmulke or a turban or a burqa as a costume, why would you wear a headdress? No one wants to raise their kids thinking they belong to a culture relevant only to people too old to be wearing kid-Halloween costumes and stoned festival goers.
As 70% of Native Americans now live in a metropolitan area (8% in 1940) it's important to preserve symbols since America has left little else native to Native populations. Headdresses are not a toy to be bought, sold and worn for a drunk weekend then tossed aside. It's a long-standing problem — one we've needed to address for far too long.
But there is hope. When rappers like Christian Parrish Takes the Gun, an Apsáalooke American Indian from the Crow Nation Reservation, can become MTV's Artist of the Week, there's hope. American Indian voices are raising in their culture's actual songs. Centuries on, it's time America listened.