One Of America's Most Elite Colleges Just Banned All of Its Fraternities and Sororities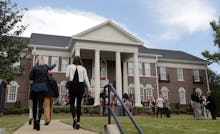 The news: The Department of Education released last week the list of 55 schools currently under investigation for mishandling sexual assault and harassment cases. Now, one of those schools is stepping up with an unusual measure: Amherst College is banning all fraternities and sororities from its campus.
To be clear, Greek life at Amherst has been officially banned for the past 30 years. But an underground Greek scene has been alive and well, led by popular fraternities such as Chi Psi, Delta Kappa Epsilon and OT.
But that's all about to change. On Tuesday, the school's board of trustees made it clear that they would no longer tolerate this unofficial Greek life. In an announcement to the students, the board affirmed that anyone who joins "off-campus fraternities and sororities, and fraternity-like and sorority-like organizations" is subject to suspension or expulsion.
Around 90 of Amherst's 1,800 students are estimated to take part in these and other fraternities. While that seems like a small number, it amounts to 10% of Amherst's male population. There are no known sororities.
What does this have to do with sexual assault? The trustees made their decision after a committee of administrators, faculty and students studied on-campus sexual misconduct and examined how fraternities play into Amherst's social scene. The announcement also follows recent campus rage over a fraternity's misogynistic T-shirt design and the expulsion of a Chi Psi student found guilty of sexual assault.
And it's impossible to discount the effect of the Department of Education's Title IX investigation, which was precipitated after Amherst student Angie Epifano filed a federal complaint against the school last December. In the complaint, Epifano specifically singled out Amherst's underground fraternities for contributing to a hostile sexual climate.
It is important to point out that Amherst is not holding fraternities responsible for the school's problems with sexual assault. The committee has been careful to note that "We are not saying they are disproportionately guilty of sexual assault; we have no evidence that this is the case."
Still, the official report found that the main three fraternities heavily contributed to the school social scene and that they "may also contribute to the notorious gender imbalance" in the student government. Until the school releases a more in-depth report, we won't know whether they have any data to back up these claims.
What will happen next? The fraternities are not going down without a fight. Several Greek organizations are reportedly organizing sit-ins at the college president's office and in the main administration building to protest the decision.
But Amherst certainly won't be the only school without a Greek scene. Other small liberal arts schools such as Middlebury College, Bowdoin College and Williams College have been instituting similar bans, and students at Swarthmore College recently voted to make all fraternities co-ed.
Given all the bad PR that fraternities have been receiving lately, this may only be the beginning of major changes in colleges and universities across America.