The 11 Most Viral Photos You May Have Missed This Week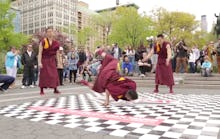 Here's the week that was — in pictures.
1. Breakdancing monks?
New Yorkers were treated to a strange sight last Friday when they came across a group of Tibetan monks breakdancing to the Beastie Boys. Well, it turns out these men weren't actually monks — they were breakdancers hired by a marketing company to pay tribute to Adam Yauch, who was a devoted Buddhist until his death. It was too cool to be true.
2. Hands to yourself, please.
Singer Avril Lavigne sparked a controversy after her fans paid $400 for an exclusive photo-op, and found out she instituted a "no touch" policy. But, as PolicyMic's Julianne Ross says, "By juxtaposing the whopping cost of meeting the idol with the physical distance she kept from her fans, the media's coverage makes the disturbing implication that after a certain monetary threshold, people are somehow entitled to others' bodies."
3. May the 4th be with you.
Star Wars fans around the world celebrated May 4th, or "may the force be with you" day. In addition to the greeting above from Mace Windu himself, original star Mark Hamill tweeted a message to the fans, while J.J. Abrams and Lawrence Kasdan — who are helming Episode 7 — sent out a "video selfie."
4. Jay Z fake-proposes to Beyoncé.
The royal couple of hip-hop had a night out at the Met Gala on Monday, but during their red carpet arrival, Beyoncé's ring fell off in front of the photographers. Luckily, her husband was on deck to help out and staged a mock proposal. That Jay Z — he liked her so much, he put a ring on it ... again.
5. Fox News may have substituted Tibetans for Koreans in its ferry coverage.
"In its early coverage of the Sewol ferry disaster in South Korea, Fox may have used footage of random mourners of Asian descent instead of, you know, the hundreds of South Koreans who were actually mourning the loss of loved ones," reported PolicyMic's Alexandra Hartmann. Internet detectives believe the footage comes from Tibetans reacting to the April avalanche at Mount Everest. Well, at least they got the continent right.
6. Woman films her own abortion.
A young abortion counselor named Emily Letts made waves this week when she posted a video of herself getting a surgical abortion. It's an eye-opening look at what one of America's most contested procedures actually looks like.
7. This is what real weight loss looks like.
Brooke Birmingham, a 28-year-old blogger from Illinois, lost an incredible 172 pounds in the past four years. But when Shape magazine asked her to participate in their "Success Stories" feature, they requested a clothed photo — despite the fact that they have lots of shirtless photos on their site. She declined, instead posting this proud photo of her body.
8. First lady weighs in on Nigeria kidnapping.
First lady Michelle Obama on Wednesday tweeted out a message of support to the kidnapped girls in Nigeria. The #BringBackOurGirls meme has been used by everyone from Hollywood celebrities to activist Malala Yousafzai to raise awareness.
9. A 500-pound Syrian brown bear gets back surgery.
Mango, a 19-year-old Syrian brown bear in Tel Aviv, had a debilitating back condition. So on Wednesday, veterinarians at the Hebrew University of Jerusalem performed a massive back surgery. It took 15 zoo employees to place Mango on the table and five hours just to expose his spine. He is currently in recovery.
10. Amy Poehler and Tina Fey binge on Seth Meyers' credit card.
Well, this may be the most charming case of credit card fraud in history. Comedians Seth Meyers and Amy Poehler accidentally switched cards after a dinner, so he returned hers by courier ... and she did not. Instead, she roped in her partner in crime, Tina Fey, to take Meyers' card on a shopping spree. They eventually returned the card after using it to make a $5,000 donation to leukemia research. At least it was for a good cause?
11. More clashes in Venezuela.
Venezuelan troops clashed violently with student protesters on Thursday, leaving a police officer dead. National Guard troops raided four tent camps where activists had holed up for months.