There's Something Revolutionary About ABC's New Fall Lineup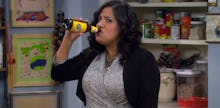 The news: ABC just dropped a bomb on network TV.
With Scandal and Modern Family already drawing praise for their diversity, America's fourth-ranked network has announced a 2014-15 programming lineup almost unprecedented in its scope of racial representation.
"You're going to see shows reflecting the already-changed face of America," said ABC Entertainment Group President Paul Lee, speaking to an audience of journalists and advertisers on Tuesday. Building on that ethos, the network intends to broadcast a multi-ethnic spate of new shows that bring more "brilliant and diverse voices to network television."
Where to begin? Wednesday nights will kick things off with Black-ish, a self-aware attempt to revive that once popular relic known as the "black family sitcom." Anthony Anderson and Tracee Ellis Ross play an affluent couple who, along with their kids, are struggling to fit into white suburbia while maintaining some semblance of "black culture."
Laurence Fishburne will executive produce and co-star as Anderson's father. For the time being, we'll ignore the "bro mitzvah" jokes and simply be grateful that Tyler Perry isn't involved.
Friday nights will feature Cristela, a sitcom starring comedian Cristela Alonzo as a sixth-year law student and unpaid legal intern who "faces disapproval from her traditional, working-class Mexican American family."
Aside from potentially "never" being able to move out of her family home, Cristela faces other classic #BrownPeopleProblems, like being mistaken for the cleaning lady at work.
Then there's Fresh Off the Boat, a sitcom based on renowned chef and web series host Eddie Huang's memoir of the same name. The show follows a Taiwanese family navigating the culture shock of 1990s Orlando, Fla., starring Randall Park (of Veep fame) as the patriarch and owner of a struggling cowboy-themed eatery.
Fun fact: FOTB will be the first sitcom starring an Asian family since Margaret Cho's All-American Girl. That was 20 years ago.
The new lineup closes out with a "very bold" and "ambitious drama" titled American Crime, the brainchild of Oscar-winning 12 Years a Slave screenwriter John Ridley. Crime follows the aftermath of (what else?) a violent crime and those impacted, including a "young Hispanic man" who becomes the prime suspect. According to Ridley, the show seriously "examines and challenges our perceptions of race in America."
Wow. ABC really went in this year, and it wants you to notice.
This new lineup can only help their bottom line, considering, for instance, that people of Asian descent make up 18.9 million of America's population and Latinos are one of TV's most coveted untapped audiences.
Recent studies have also demonstrated the financial benefits of diverse programming, both in television and feature films. One such study from UCLA's Ralph J. Bunche Center for African-American Studies suggests that shows with more ethnically diverse casts receive higher ratings on average, while films with "high onscreen minority involvement" make more than twice as much in box office receipts.
It seems that ABC – more than any other network – has caught onto the revolutionary notion that producing shows starring people of color are a really good idea. Let's hope the pattern holds and spreads to the rest of the industry.