India Has a Radical Plan to Power Every One of Its Homes by 2019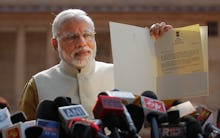 The news: India's newly elected Prime Minister Narendra Modi coasted to victory on the strength of his populist platform. His Bharatiya Janata Party (BJP) promised to increase urban construction, extend high-speed rail, clean up the Ganges river and build "toilets first, temples later." And even before he's been officially sworn in, Modi has already announced plans for his government's first big infrastructural project: solar panels.
According to the BJP's plans, party officials are hoping to harness enough solar power to light a lightbulb inside every home in India by 2019 — in the best case scenario, the panels would be able to generate enough power to run "two bulbs, a solar cooker and a television."
"We look upon solar as having the potential to completely transform the way we look at the energy space," Narendra Taneja, convener of the energy division at BJP, told Bloomberg.
Why this is important: Electricity remains a huge problem problem in India. Around 400 million Indians — more than the combined populations of the U.S. and Canada — are estimated to still lack access to an electrical source. Outgoing PM Manmohan Singh missed his 2012 target to provide electricity to every home, providing an opening for Modi to immediately differentiate his government from the previous establishment.
Modi has previous experience with introducing solar energy in his home state of Gujarat, where he helped to generate a power surplus. Implemented on a national scale, his administration's ambitious energy plan has the potential to create jobs and connect millions to the grid.
There are also big environmental and economic consequences. Renewable energy is still not a big market in India — most of the country's 1.2 billion people rely on coal and oil. And while India is the world's fourth-largest energy consumer, most of its oil is imported.
And India's electricity industry is due for a huge makeover. Because so many people are off the grid, electricity theft is prevalent. It's estimated 15-30% of power is lost due to "illegal hookups, bill fraud, or nonpayment." The World Bank also estimates that this theft decreases India's GDP by 1.5%.
Solar energy around the world: While the U.S. is on track to top Germany as the world's leader in solar energy, it's still falling behind when you factor in per capita and GDP.
Image Credit: CleanTechnica
Image Credit: CleanTechnica
And the American solar energy market is facing significant political pushback from the oil lobby. Though some states — California, Arizona, North Carolina, Massachusetts and Nevada — lead the country in solar installations, conservative groups are doing their best to prevent solar industry from taking over.
Modi's big experiment has a lot stacked against its success: India is a huge country that's very difficult to govern, and it will be a herculean task to prop up the solar industry in a transparent and efficient manner. Still, it's a big move for one of the world's largest countries to pledge such an ambitious goal, and hopefully it will be enough to ignite the charge to bring solar power to the rest of the world.