27 Inspiring Feminist Tweets Fighting Back Against Elliot Rodger's Blatant Misogyny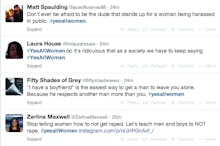 Shortly after news of Friday night's tragic shooting in Isla Vista, Calif., details began to emerge painting a picture of 22-year-old suspect Elliot Rodger as an extreme misogynist with disturbing views of women, sex and relationships.
"You girls have never been attracted to me," Rodger said in a video Rodger posted just hours before the attack. "I don't know why you girls aren't attracted to me, but I will punish you all for it. It's an injustice, a crime, because ... I don't know what you don't see in me. I'm the perfect guy and yet you throw yourselves at these obnoxious men instead of me, the supreme gentleman."
But instead of spewing hate against Rodger himself and possibly celebritizing him in the process, the Internet used this horrible tragedy to remind us that #YesAllWomen experience the types of hateful misogyny Rodger demonstrated in his video manifesto. And despite discussions of gun violence or mental illness, as PolicyMic's Elizabeth Plank points out, this is something much more than that:
"What happened in Santa Barbara is nothing less than a hate crime, and yet mainstream news outlets are distilling the issue to "mental illness" and "premeditated mass murder." Although we should be shocked by Elliot Rodger's actions, we should not be surprised. In fact, most school shootings share chillingly similar characteristics. It's time we stop treating these incidents as anomalies and start recognizing the deep societal issues at play."
Luckily, the #YesAllWomen hashtag took off and quickly went viral, poignantly criticizing the way society teaches men to feel entitled to women at the expense of their health, safety and, in Rodger's case, lives. Here are some of the best #YesAllWomen tweets so far. 
1.
2.
3.
4.
5.
6.
7.
8.
9.
10.
11.
12.
13.
14.
15.
16.
17.
18.
19.
20.
21.
22.
23.
24.
25.
26.
27.