Iggy Azalea's "Fancy" Just Made Pop Music History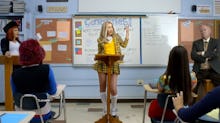 Fifty years ago, the Beatles stepped off a plane at JFK Airport into a mob of screaming teenagers. A few weeks after they landed, they set a record by having both of their debut singles sit side by side on the Billboard charts at No. 1 ("I Want To Hold Your Hand") and No. 2 ("She Loves You"). That laid the foundation for the most historic pop career ever, and it set a record that stayed unbroken for decades.
Until, that is, Iggy Azalea matched it and set a new one yesterday.
The white female MC from Australia became the first female artist and the first artist in 50 years to have her first two entries on the Billboard Hot 100 to rise to the top of the charts. Her "Fancy (ft. Charli XCX)" owns the No. 1 spot, while her feature on Ariana Grande's "Problem" is at No. 2 after becoming one of the fastest-selling singles in pop history. She also became the fourth female rapper ever to earn the top spot on the charts, a feat that neither Missy Elliott nor Nikki Minaj have accomplished.
This is a huge moment for pop music. Iggy Azalea's career is already historic, and it's been a long time in the making. The music industry is predominantly run by men at all levels — executive, songwriting, engineering. Numerous female artists, such as Charli XCX, Lily Allen and Nicki Minaj have commented on the pervasive sexism in major label boardrooms, where female artists are expected to keep their mouths shut while the men to manage their careers, write their songs and do all their work for them. Female artists are also often encouraged by executives to play up their sexuality, which has resulted in pervasive objectification of female artists, something Iggy Azalea has been incredibly outspoken about.
Iggy's success will hopefully to start to unravel that. But she's also poised to confront long-standing race tensions in pop music, for better and for worse. Rumors have circulated that she's been outspokenly racist in the past. Many feel that Iggy Azalea profits off her white privilege, co-opting a "blaccent" and black artist identity to create her success. Forbes ran an article recently under the title "Hip-Hop Is Run by a White, Blonde, Australian Woman," which sparked a huge backlash resulting in a changed headline:
But just how much of Iggy's incredible debut success can be attributed to white privilege is difficult to ascertain. She's actually the first white female in music history to have two singles at No. 1 and No. 2 (the only other two women to receive this honor are Mariah Carey and Ashanti, in 2005 and 2002 respectively), and 10 out of the 15 artists to make that list are black males. What's important, though, is that her accomplishments will force us to confront these conversations about cultural appropriation and gender imbalance.
Regardless of race, Iggy Azalea's achievement could serve as a huge step forward for female artists, and it's a big chance for pop music to shatter some of its long-standing biases. The Beatles' chart-topping explosion in 1964 opened the door for a flood of new music. Azalea can claim the same achievements, and she's poised to open the door for women everywhere.