The $524,000 Reason Kendrick Lamar is the Most Humble Man in Hip-Hop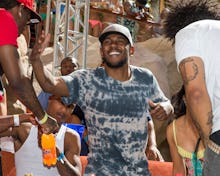 Back in 2011, long before Kendrick Lamar was getting snubbed at the Grammys, before he was touring the world behind what many agree was the best album of the year, he wrote a song called "Vanity Slaves" for a backpack EP simply titled Kendrick Lamar. On that track, he dreamed about how he'd use his wealth if ever he were successful:
"If you get your first big check and you cop a chain before you buy a house / You're a vanity slave"
Over the weekend, Lamar used his "first big check" to buy himself a modest four-bedroom home priced at $524,000 in Eastvale, Calif., an upper middle-class suburb of L.A. Most houses in that area go for an average of $345,000, so it's still a step up from the average, but that price tag doesn't even come close to the lavish excess displayed by his peers. According to Re-Tox the house looks like this:
Image Credit: CRMLS
As the Huffington Post reports, fellow young California rapper Tyga, who doesn't even approach the same sales and acclaim as Lamar, nests in a lavish $6.9 million home, complete with seven bedrooms, eight bathrooms, a movie theater, pool, spa and waterfall in Calabasas, Calif. Kanye and Kim Kardashian reside in an $11 million mansion in Bel Air. Dr. Dre put up $15 million for his spot in the hills. Excess is the name of the game.
Such lavish displays of wealth have, up until this point, been a necessity in the mainstream rap game. "Swag" increasingly seems associated with the size of a mansion or a chain than with a signature ad lib or a contact book full of renowned beatmakers. And while this kind of flaunting can admittedly serve to inspire others trying to hustle their way up from nothing, the heights many rappers reach are often so outlandishly opulent that they can discourage others from being satisfied with the lives they have.
Kendrick Lamar seems poised to change all that, and start a new trend in hip-hop of modesty and humility. He has been highly critical of other rappers' obsession with image and artifice on numerous songs. On his incendiary verse on 2013's "Control," he spits: "I ain't rockin' no more designer shit / White T's and Nike Cortez, this red Corvette's anonymous." On "Vanity Slaves," he even suggests that rappers' fixations with fancy chains are a way of compensating for feelings of racial inadequacy.
He sees a different path. His album good kid, m.A.A.d city is a chilling portrait of the realities of inner city life. He offers life savings, knowledge and property as the way out of Compton — not conspicuous consumption. Now that he's got a national platform, he's living his own example.
In that way, Lamar is the José "Pepe" Mujica (the world's "Most Humble President" of Uruguay) of the rap game. He has been unflinching in his drive to live gracefully and benevolently — even landing at No. 19 along with Beyoncé and Macklemore on this list of Most Charitable Entertainers in 2013, raising thousands of dollars for the Red Cross. He recently announced that all the proceeds from his 2014 tours will go to Habitat For Humanity. He's hit the peak of his own career, and he's giving back more than ever.
Lamar's actions speak to the authenticity of his music. They prove the man has humility and true wisdom to share with the world. In the end, that's more worth a share than tweets about private jets and pony stables.