American Indians Are #NotHappy With Pharrell's Latest Magazine Shoot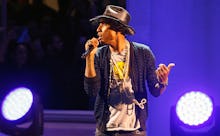 The good news: Pharrell Williams has finally removed his absurdly large Canadian mountie hat.
The bad news: He replaced it with a Native American headdress, which he then wore to a photoshoot for the July cover of Elle UK.
Image Credit: Elle UK
The preview image appeared on the magazine's Facebook page on June 2, and needless to say, retribution was swift. In addition to generating hundreds of angry comments, the cover has prompted Twitter responses that have piggybacked onto the #NotHappy hashtag (get it?):
So begins another round of discussion around why Native peoples' traditional garb is not an appropriate fashion accessory or costume. Hats off to Pharrell for helping keep ignorance relevant.
The background: The magazine has declared its July cover the singer-producer's "best ever shoot," but overwhelmingly negative responses from Native critics tell a different story.
Such backlash has precedent. The appropriation of the headdress — traditionally a symbol of authority and honor among Native peoples — for fashion purposes has a long and not-so-illustrious history.
Image Credit: Instagram
Case in point is the Coachella Valley Music and Arts Festival, where the practice has become depressingly commonplace to the point of automatic association.
Image Credit: Twitter
Even indigenous artists like A Tribe Called Red must deal with fans using their concerts as opportunities to play dress-up. Add these incidents to ongoing debates around Native figures being used as sporting mascots, and the pattern's offensive and loaded racial implications grow even more pronounced.
Image Credit: Cleveland Frowns
It's not just hipsters watching live music, though. Lately, the fashion industry has been an especially egregious perpetrator. Evidence abounds, but Heidi Klum's latest photo shoot for the German edition of Project Runway is about as offensive as they come.
Image Credit: Facebook
Wow. Throw in the latest Elle UK cover and you can almost see the interlocking gears of racist ideology grinding away. In fact, the transgressions of Pharrell and the magazine add another layer: As with Joe Budden's problematic Sikh joke on Instagram a few months back, this situation only demonstrates — in the immortal words of cartoonist Vishavjit Singh — that these celebrities "might be black and famous, but not immune from supremacist urges."
That such a large portion of the entertainment industry keeps ignoring the memo about Native garb means it bears restating. Put simply, traditional attire like headdresses aren't just the Native equivalent of snapbacks and scrunchies, they have much deeper spiritual and symbolic connotations. Considering the legacy of theft and violence that defines U.S. interactions with Indigenous people, the appropriation of such cultural signifiers not only reinforces a brutal colonial legacy, it also shows blatant disrespect toward the people who continue suffering as a result. And if that's not enough, here's a lesson in basic manners: If a people who've been routinely oppressed and humiliated in popular culture tell you a certain practice of yours is hurting them, you should listen.
According to Colorlines, Pharrell has since issued an apology through one of his representatives:
"I respect and honor every kind of race, background and culture. I am genuinely sorry."
But how much longer will it take for people to grasp this remarkably simple concept?