14 Incredible Works That Have Redefined Art in the 21st Century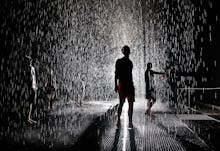 The values and focus of 21st century art are just finding their footing. So far there are echoes of the postmodern tradition, artistic movement emphasizes method over form and originality over technicality. But there are also uniquely 21st century characteristics, like the growing artistic importance of sociopolitical consciousness and the effects of globalization on art.
For a crash course in the contemporary art scene, we gathered one work for every year between 2000-2014. Looking towards the recent past of modern art, these are the pieces you should know. Starting with 2000, here's the year-by-year retrospective:
1. 2000: Louise Bourgeois' "I Do, Undo, Redo"
Image Credit: Blogspot
One of the world's great modern and contemporary art museums, the Tate Modern, opened in London in 2000. There, famed French-American artist Bourgeois (1911-2010) took center stage in turbine hall with "I Do, Undo, Redo." 
With the piece, Bourgeois digs into the issues of identity and self-reflection, a precursor to the themes that would become even more critical with the pending development of social media. In "I Do, Undo, Redo," she forces the viewer to experience self-conscious anxiety, momentarily isolated under the mirrors and the searing spotlight of the public gaze. It's a piece defined by remarkable foresight and immense talent.
2. 2001: Rafaël Rozendaal's "www.whitetrash.nl"
Image Credit: Imgur
If anyone can be called "Internet famous," it's Rozendaal. The Dutch-Brazilian artist and writer is most famous for his online art and websites, of which there are hundreds. 
According to his personal site, www.whitetrash.nl was his first. Even today, 13 years after it was built, the site embodies elements of the contemporary 20-something's approach to the Internet — interactive, humorous, thought-provoking.
Taken at face value, all of his sites are engaging and inane, a little like the reality TV of art. The beauty of his work lies in the participation element. It is very difficult to make the Internet an experiential art installation, but Rozendaal seems to have figured it out.
3. 2002: Cornelia Konrads' "Grass Works"
German artist Konrads is not very well known, but she should be. Her 2002 piece "Grass Works" emphasizes some of the environmental and cultural concerns that have defined the past two decades.
Her site-specific earth installations build on the tradition that artists like Andy Goldsworthy established in the 1980s. Her pieces play with gravity, in some ways rejecting the natural limitations of the materials that earlier land artists emphasized. It's a sharp conceptual departure from other similar artists.
4. 2003: Dario Robleto's "Caught in Man's Amnesia"
Robleto's "sunny despair" (as described by Pulitzer Prize-winning art critic Holland Cotter) pervades his stunningly complex and vaguely gothic artwork. "Caught In Man's Amnesia" is a collection of bullets made of melted and cast unused bullet casings from every American war.
After 9/11, war became a primary theme in Robleto's works. This piece grapples with notions of war, peace, memory and salvation — not in a superficial way but with respect, historical context and awareness, sensitivity and grace. Amid a seemingly endless rotation of wars and conflicts, Robleto's approach echoes the humanity and chaos of conflict.
5. 2004: Ron English's "MC Supersized"
American artist English's peculiar brand of subversive cultural commentary is intricately tied to the fluorescent aesthetics of American pop culture in the early noughties. "MC Supersized" is one of English's most recognizable sculptures, in part because of its inclusion in Morgan Spurlock's documentary Super Size Me.
English reportedly coined the term "POPaganda" to describe his approach, and he describes "MC Supersized" as one of his "art toys." In keeping with the POPaganda vision, it is available in many different colors, shapes and costumes, like a child's plastic toy. This piece, like all of English's work, is rooted in street art and alternative culture. "MC Supersized" helped establish both in the mainstream art consciousness. 
6. 2005: Kehinde Wiley's "Napoleon Leading the Army over the Alps"
Wiley, a Nigerian-American painter, has become one of the premier artists of the 21st century. "Napoleon Leading the Army Over the Alps" showcases the style for which Wiley became famous.
It reinterprets traditional oil portraiture to raise questions of race and societal class. This immense piece hangs in the lobby of the Brooklyn Museum in New York and helped established Wiley as a major player in the contemporary art scene.
7. 2006: Cy Twombly's "Untitled (Blooming: A Scattering of Blossoms and Other Things)"
Twombly, who passed away three years ago, was one of the art world's heavy hitters. His paintings and drawings had immeasurable influence on the abstract and expressionist artists who followed him, and laid the groundwork for artists like Julie Mehretu. 
Twombly's series of peonies emerged around 2006, and they stand apart from his other works for their vibrant color and solidness. These are present paintings, the art of a man working toward a more experiential abstract expressionism. They are large and lovely — not an unwelcome imposition on the viewers' space. 
8. 2007: Julie Mehretu's "Black City"
Image Credit: WikiArt
Mehretu, an Ethiopian artist, creates large-scale, gestural, multi-layered, multimedia compositions that feel like abstract maps of cities. "Black City" is typical, gorgeous Mehretu — architectural, structured, speeding. It's an expanse of details, notes and movements. She is the heir to Pollock's throne.
Mehretu has become one of the top abstract painters in the world since her career exploded in the late noughties. Her work is seen as a response to the frenetic pace of modern life and the growing inter-connectivity.
9. 2008: Shepard Fairey's "HOPE" Poster
Already an icon of the street art scene for his OBEY series, Fairey established himself firmly in art history with his campaign posters for then-presidential candidate Barack Obama in 2008. These "HOPE" posters were not endorsed by the Obama campaign, as they were posted illegally, but they became the campaign's de facto imagery. The original version of the posters said "PROGRESS" rather than "HOPE," Fairey said, but the campaign requested the change.
Fairey's "HOPE" poster is one of the first examples of art to go viral.
10. 2009: Mickalene Thomas' "Something You Can Feel"
It's labeled as a "multi-media installation," but in layman's terms, it's a living room. "Something You Can Feel" is one of American artist Mickalene Thomas' first installations of an entire room, this one decorated like a '70s den. Again, we see experiential art taking center stage alongside those questions of identity so common in contemporary art. 
Thomas is known not for her installations, but for large-scale portraits of black women that challenge ideas of femininity, sexuality, adornment and race. In this piece, we see her begin to address the material culture that surrounds the subjects of her paintings. Conceptually, it's an interesting step in these contemporary identity explorations, and one to pay attention to in the future. If you're looking for an artist to watch, Thomas is it.
11. 2010: Martynka Wawrzyniak's "Lipstick (four)"
Polish artist Wawrzyniak does not shy from the camera. "Lipstick (four)" is part of her "4 Sale" series, which deconstructs and questions videos and photographs of women. Wawrzyniak is one of four women photographed for the series. Her work digs invasively deep into her own physical, mental and emotional identity. She's interested in what it means to be a woman — and what it means to be an individual.
Two things are particularly interesting about this piece of art. First, its distribution. This piece is available for free, for everyone. That's radical. Second, the humor. This kind of exaggerated, seriocomic humor still feels fresh and current. Hopefully there will be more sardonic levity in art in the future.
12. 2011: Ai Weiwei's "Sofa in White"
In 2011, the Chinese government imprisoned Chinese artist and outspoken dissident Weiwei on bogus claims for 81 days. He was very open about the whole episode, and it drew international attention to the Chinese government's draconian limitations on individual freedoms. Since his imprisonment, Weiwei has become a household name and an icon of free speech. 
While many of his works are now well known, these sofas were released during 2011 as part of an outdoor installation in Switzerland. They display Weiwei's formal attention to detail and to realism, while also showing the kind of calculated whimsy that sets his work apart. 
13. 2012: Pussy Riot's "Punk Prayer - Mother of God, Chase Putin Away!"
Pussy Riot, that infamous Russian feminist punk collective, attracted international attention in 2012 with their music video "Punk Prayer - Mother of God, Chase Putin Away!" Formed in 2011, Pussy Riot is known for staging and taping guerrilla protests and posting them online. Following this music video, two members of the group were sentenced to two years in prison, which was widely criticized by Western media.
This particular piece of shock art is one of Pussy Riot's most popular and is a compelling fusion of trends across art, politics and society. In contemporary art, we are continuing to see more fluid boundaries and looser expectations for what art can be.
14. 2013: Yayoi Kusama's "Infinity Mirrored Room — The Souls of Millions of Light Years Away"
Being the installation that spawned a thousand selfies detracted not one whit from renowned Japanese artist Kusama's truly magical exhibit at David Zwirner gallery in 2013. The "Infinity Mirrored Room - The Souls of Millions of Light Years Away" was everything it looked to be and much more. Though the show included four major works by Kusama, including a strong collection of paintings, the jewel in the crown was the "Infinity Mirrored Room."
This piece was a landmark in contemporary art. It is a very recent example of art gone viral, driven in part by social media and in part by youth engagement with this kind of immersive, experiential art. When considered with MoMA's "Rain Room," 2013 was a very good year for installation art. Let's hope 2014 is even better.
Correction: An earlier version of this article misspelled Jackson Pollock's name.