Want Your City to Host a Super Bowl? Only if You Pay for the NFL's Perks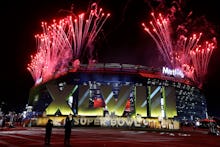 Hosting a major sporting event like the World Cup, Olympics or Super Bowl should be a prestigious honor. These historical events bring attention, business and excitement to any city, but at what cost?
The news: Last month, the NFL awarded Minneapolis the 2018 Super Bowl, but not before running the city through a rigorous gauntlet to ensure it met all the "specifications and requirements." The Star Tribune got a hold of the NFL's 153-page checklist and what they found is kind of shocking. 
There are a number of relatively standard requirements, such as seating capacity (though with a 70,000 fixed seating capacity requirement, 16 of the NFL's current 31 stadiums are automatically ruled out), ticket sales agreements, climate control, lighting and broadcast equipment necessities like a control room, press box and PA system.
The NFL's rider: But then there are a few more demanding requirements, all of which are things the NFL wants for free.
1. At least 20 billboards in the Twin Cities to advertise the Super Bowl
2. Local police officers to crack down on counterfeit tickets and merchandise
3. ATMs inside the stadium that take NFL-preferred credit and debit cards, and the removal of ATMs that don't
4. Portable cellular towers at team hotels, if cellphone signal strength isn't acceptable
5. At least 20 color pages of advertising in daily newspapers
6. Four weeks of advertising on at least six radio stations
7. Four "top quality" golf courses and two "top quality" bowling lanes
Keeping with the general sense of not wanting to pay for anything, the NFL wants full exemption from state, county and city taxes. You can review the entire document below.
The Super Bowl is clearly a very major sport and media event — this year's Super Bowl XLVIII averaged roughly 112.2 million viewers — but some of these demands seem a bit ridiculous. However, these requirements can add up in price and quickly become major financial burdens for potential host cities. Though most cities with an NFL team can support certain levels of costs associated with the Super Bowl, as the event grows in scale every year, it becomes less and less feasible for certain cities to host it. 
Additionally, with this much money moving around, the NFL really should be more transparent about their process and the requirements and specifications they lay on host cities. 
"This is wrong," former Minnesota Gov. Arne Carlson told the Star Tribune while also noting that the game will be played in a new $1 billion Vikings stadium built with a lot of public financing. "This is a huge public event. It should be transparent. We should know how the NFL operates."
The Star Tribune reported that the Minneapolis host committee did not agree to all of the league's demands, though the committee didn't specify which ones weren't met. 
Beyond the NFL: As major sporting events around the world continue to grow in popularity, attendance and media attention, global cities clamor to host games, sometimes going to illegal or deadly lengths. Even when a city does manage to pull everything together, there are bound to be problems, like the ones we saw earlier this year in Sochi or now during the lead-up to the World Cup in Brazil. 
Some cities are starting to realize the astronomical price tags associated with these events, and it seems the 2022 Winter Olympics are having a difficult time finding a home. And if costs and demands continue to escalate like this, unless organizations like the NFL, FIFA and IOC can guarantee a return on investment, more major events might have problems finding homes in the future.