This Photo From a London Luxury Building Has Started a Human Rights Firestorm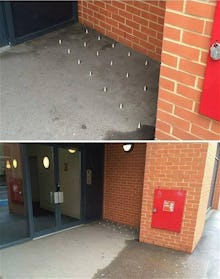 The news: It's common to see buildings with sharp spikes on the roof, designed to keep nesting birds away. But it's another thing entirely to see the same strategy applied to human beings.
A series of photos of a luxury London apartment building went viral over the weekend, prompting outrage from human rights organizations. The pictures showed metal studs outside the building's entryway, apparently placed to keep homeless people away.
Image Credit: Twitter
Why is this happening? According to the building's residents, the inch-high studs were installed two weeks ago after a number of homeless people slept there. The ritzy apartment, where flats sell for upward of $1.35 million, happens to be located opposite "a hostel for homeless people with mental health problems," reports the Guardian.
And it's not the first building to implement such tactics. Similar studs have been photographed outside a Tesco supermarket in London, although the staff there has maintained that they don't mean to target homeless people.
"The studs were put in place to try and stop people engaging in anti-social behavior like smoking or drinking outside our store, which can be intimidating for our customers," a spokesperson reportedly said.
The response: Regardless of intent, the metal studs outside the apartment and the Tesco have garnered significant outrage, both around the Internet and among human rights organizations.
A Change.org petition directed at London Mayor Boris Johnson to remove the metal studs has received more than 6,000 signatures, while several formal complaints have also been lodged with the Southwark city council.
Community organizations argue that the focus needs to be on helping homeless people get on their feet and not on penalizing them.
"They might have suffered a relationship breakdown, a bereavement or domestic abuse. They deserve better than to be moved on to the next doorway along the street. We will never tackle rough sleeping with studs in the pavement. Instead we must deal with the causes," Katharine Sacks-Jones, head of policy and campaigns at homelessness charity Crisis, said.
A bigger issue: While the appearance of these metal studs in London has gained much-deserved attention, the criminalization of homelessness in the U.S. remains a deep and insidious problem. Some state and local governments have made it illegal to live in a car or to lie down on sidewalks; cities such as Ft. Lauderdale, Fla., have allowed police to seize any personal possessions left on public property.
It's also become a matter of international condemnation. A UN report in April described the United States' treatment of its homeless population as "cruel, inhuman and degrading," and criticized the implementation of violent police tactics. 
"I'm just simply baffled by the idea that people can be without shelter in a country, and then be treated as criminals for being without shelter," Nigel Rodley, a human rights lawyer and the chairman of the UN committee, said during the UN Human Rights Committee in Geneva in March. "The idea of criminalizing people who don't have shelter is something that I think many of my colleagues might find as difficult as I do to even begin to comprehend."
Image Credit: Affordable Housing Institute
Despite the proven economic benefits of helping homeless people find shelter instead of leaving them on the street, these policies seem to operate on the belief of "out of sight, out of mind" — as long as they're out of the public's view, we don't have to recognize the reality of underlying economic problems that have created such situations.
What's so bad about treating homeless people like pigeons as long as the rich are spared the sight of such eyesores?