Obama Is Going Against the World to Fight Climate Change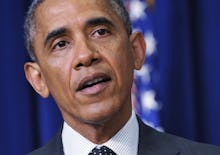 The news: It's been merely a week since President Barack Obama announced his ambitious plan to cut U.S. coal plants' carbon emissions, and some of the United States' biggest allies have already voiced concerns. 
On Monday, the heads of Australia and Canada said that despite Obama's announcement, they didn't feel any additional pressure to address climate change if it means potentially hurting their economies. "We should do what we reasonably can to limit emissions and avoid man-made climate change, but we shouldn't clobber the economy. That's why I have always been against a carbon tax or emissions trading scheme because it harms our economy without necessarily helping the environment," Australian Prime Minister Tony Abbott said at a joint press conference.
Canadian Prime Minister Stephen Harper agreed, adding that when it comes to acknowledging the financial costs of climate change action, "we are just a bit more frank about that" than other countries.
"And, frankly, every single country in the world, this is their position: No country is going to undertake actions on climate change, no matter what they say; no country is going to take actions that are going to deliberately destroy jobs and growth in their country," Harper said.
Both Harper and Abbott are leaders of center-right to right-leaning political parties. 
Why do they feel this way? Neither of these stances are totally unexpected. Abbott has previously described climate change as "absolute crap." Canada, a major energy exporter, is sure to miss its carbon emission reduction goal, while the Australian government is actively trying to repeal taxes on carbon and mining emissions. But more to the point, as both leaders expressed during Monday's press conference, efforts to curb carbon emissions would hurt the economy and therefore aren't on the top of their to-do lists.
Image Credit: Google Public Data
Several international papers have reported that Abbott and Harper are pursuing an alliance of like-minded, conservative Commonwealth states — Australia, Canada, U.K., New Zealand and India — to prevent carbon pricing. The Sydney Morning Herald has described the effort as "a calculated attempt to push back against what both leaders see as a left-liberal agenda in favor of higher taxes, unwise interventions to address global warming and an unhealthy attitude of state intervention."
But Obama needs their support. After all, there is very little that America can do on its own. If Obama's new plan is fully implemented, it will only go as far as to cut global greenhouse gas emissions by 1%. In order to truly effect climate change, the U.S. needs the support of other big carbon emitters — especially China and India.
Image Credit: Urban Green Council
As research has shown, pollution and greenhouse gas emissions do not exist in a vacuum, and there are global implications for any action that addresses or exacerbates climate change. If the United States' allies — and some of the biggest carbon emitters in the world — don't do the same, Obama's action will be a drop in the ocean.