Three Giant Corporations Are Now Fighting to Control How You Listen to Music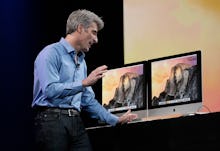 On Thursday morning, Amazon announced its brand new streaming service, Prime Music, a service set to provide close to a million tracks to Prime subscribers. Earlier this month, rumors circulated that Google was in talks to acquire Songza, a streaming and curation service similar to Spotify. Shortly before that, Apple acquired Beats Electronics and Beats Music for a whopping $3 billion. And months earlier, Spotify itself bought the Echo Nest, one of the most powerful music technology start-ups, to shore up its own recommendation engine.
Between all that news, continually declining music sales and a dramatic increase in streaming users, one thing is clear: There's a massive arms race over music streaming. But it's more specific than that: Tech giants aren't just buying streaming services — they're buying music curation tools, and they're about to change how we listen.
Image Credit: Amazon
Whereas once record labels determined what we heard, now our tech companies get to choose. The battle over streaming definitely isn't about the music. Google and Apple aren't concerned with what you're listening to, they care about how you're listening to it. In an age where more music is more available than ever but fewer people are willing to pay for it, curation is king. And tech companies are beating the music industry to the very profitable punch when it comes to helping you decide what you want to hear.
Curation was a primary factor in Apple's decision to acquire Beats, with Apple CEO Tim Cook stating that Beats Music is one of the first streaming apps to "get [curation] right." That Apple would seek to alleviate declining digital singles sales with streaming revenue comes as no surprise, especially given the tepid response to their own attempt at streaming with iTunes Radio. Plus, partnering with Beats is bringing Apple some desperately-needed cool points. 
Image Credit: Getty
But the real significance of the streaming race is clearest from Google's interest in Songza. They already had a streaming service (Google Play's Music All Access is a premium streaming service similar to Spotify, Rdio and the like), so their interest in a curation service is, like Apple's Beats acquisition, all about song recommendations. A primary component of the success of both Beats Music and Songza is curation by actual people, an asset which, for now, Google's algorithm-driven service lacks.
But while the streaming industry is benefiting greatly from this newfound interest in curation, artists are getting slammed. This is what happens when tech behemoths like Apple, Google and Amazon start grabbing at the reigns of the music industry. Royalty rates for streaming services pale in comparison to those of paid downloads (on average, streaming services pay $0.00375 per stream), meaning that while tech is cashing in, artists are making less than ever before. Famed composer Van Dyke Parks recently wrote a scathing piece for The Daily Beast on the everything-for-free mentality, stating, "In my view, this exacts a heavy toll on live performance, collaborative esthetics, and the variety of life and its expression."
Some artists have looked for creative solutions to the streaming problem. Indie soul band Vulfpeck recently gamed the system when they released Sleepify, an album of 10 tracks of silence that the band encouraged fans to stream while sleeping, earning around $20,000 for the band to go on tour. But for every Vulfpeck, whom Spotify eventually shut down, there are thousands of other artists struggling to make ends meet. A congressional hearing was held this week to, in part, address antiquated laws as they relate to streaming royalties, but the outcome of the hearing is yet to be determined. 
But as we shift everything from distribution to curation over to streaming, we're making one fundamental assumption about music: It isn't worth anything. Over at the New York Times, David Carr lamented our dependence on the instant gratification of streaming services like Spotify. The Guardian doubled down on Carr's argument, asserting that 2014 could very well be the year the album dies. Everytime we stream, we confirm one basic idea: the chance to listen to a recorded song has almost no value. That's something the Wu-Tang Clan is attempting to refute by charging fans $50 to listen to their new album, of which there will be only one copy. But gestures like that can only go so far.
At this point, streaming is unstoppable. Polarizing industry blogger Bob Lefsetz recently called out labels for withholding major albums (like Coldplay's recent release, Ghost Stories) from streaming services because, without streaming, no one will hear them. Some labels are beginning to realize this. An "if you can't beat 'em, join 'em" mentality has led to several strategic partnerships between labels and music technology companies, like the recent deal between Warner Music and Shazam, which allows Warner greater insight into the listening habits of Shazam's 16 million daily users.
That's a huge step, because until the music industry is able to catch up to its tech counterparts, artists will continue to suffer the consequences, meaning music as an art form will, too. But in the next few years, as these curation tools become more powerful and sleek, keep an eye out for the mid-level bands you used to love — the ones no computer will tell you to hear because they don't make enough money to stick around any longer.