This Is the Most Important Commercial of the NBA Finals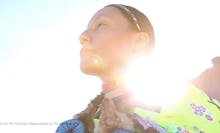 Despite a recent escalation of the debate over the controversial Washington Redskins moniker — a debate that has seen former players, sports commentators and even Mike Tyson weigh in — the team owner, Daniel Snyder, continues to insist that the name will get changed "over my dead body."  
Unluckily for Snyder, his stubborness has done little to quell his critics. Joining the fight this week is the Yocha Dehe Wintun Nation. The Native American tribe based northeast of San Francisco bought commercial airtime in seven major cities (Chicago, Dallas, Los Angeles, New York, Sacramento, San Francisco and Washington, D.C.) to run a one-minute video censuring the team's name. The ad, which was produced by the National Congress of American Indians in January and published online in time for the Super Bowl, played in Miami during Game 2 of the NBA finals last week — but, thanks to the ad spot, its audience will now be much wider. 
In the video, called "Proud to Be," a man's voice runs through dozens of words associated with Native Americans: "proud, forgotten... Navajo, Blackfoot... mother, father... Mills, Geronimo..." He ends by saying, "Native Americans call themselves many things. The one thing they don't..." — and the screen shows a helmet bearing a Redskins logo. 
The Yocha Dehe Wintun Nation would not say how much they spent on the advertising slot, but told the Washington Post that it was a "significant investment" that they believed was necessary for this "important discussion of racism."
Although the cultural misappropriation of Native American symbols, such as celebrities and festival-goers sporting feathered headdresses, has caused a backlash among the community, the campaign to delete this racial slur from sporting vernacular seems to have picked up more force. 
In addition to Snyder's pledge that he'll never rename the Washington Redskins, NFL Commissioner Roger Goodell continues to maintain that the team's name is not insulting. Goodell insists that it "honors Native Americans" and claims that nine out of 10 Native Americans support the Redskins' name. 
But this ad spot from the Yocha Dehe Wintun Nation — along with a recent petition from the National Congress of American Indians and the Oneida Indian Nation urging the NFL to stay on the #RightSideOfHistory, a letter signed by 50 senators and an op-ed written by the Blackfeet father-in-law of ESPN's Rick Reilly — suggests that is not the case. 
Image Credit: YouTube
Mike Tyson likened the term "redskins" to calling a team the "Washington Black Coons," while veteran cornerback Champ Bailey said, "It's almost like the N-word for a black person." 
Since NBA Commissioner Adam Silver banned Donald Sterling, owner of the L.A. Clippers, from the league after racist comments he made were leaked, hopes have been building that the NFL would adopt a similar no-tolerance policy to racial discrimination. Maybe this powerful one-minute ad spot will do the trick.