It's Looking Even Less Likely That Qatar Will Host the 2022 World Cup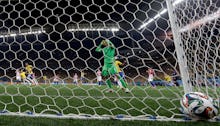 This was awesome:
It's just too bad Qatar probably won't be seeing the same kind of action in 2022. According to William Hill, the largest betting house in the UK, the odds were 13-to-8 that Qatar would lose their bid for the 2022 World Cup, but they've now dropped to 8-to-11. 
That means that a $16.80 bet on Qatar to keep their bid would pay out $16.80 in winnings. The same amount bet on the Gulf State losing would pay out $16.80 plus an additional $12.38. 
Why is this happening? The odds are most likely responding to a recent London Sunday Times article that allegedly uncovered documents demonstrating Qatar bribed their way to the 2022 World Cup bid. The paper accused former FIFA Vice President Mohamed bin Hammam of paying around $5 million in cash or presents to other FIFA members in exchange for their support. 
Qatar's World Cup bid has been wrought with problems for several months prior to the Sunday Times allegations, and not just money problems.
The extreme heat in the region has been a huge concern since temperatures in the summer can reach up to 120 degrees Fahrenheit. Qatar has been lobbying to move the games to the winter. But Fox, the broadcaster with the rights to the event, doesn't want the games to conflict with the NFL season in the U.S. And the International Olympic Committee doesn't want interference with the 2022 Winter Olympics. Britain's Premier League plays their games in the winter and doesn't want to take two months off for the World Cup. 
Qatar is expected to spend $100 billion on new infrastructure for the World Cup. There have also been numerous reports about abusive treatment and inhumane working conditions of the migrants workers preparing Qatar for the 2022 games. The country has a kafala system where foreign workers are prohibited from changing jobs or leaving the country without permission. An international trade union went so far as to call the kafala system in the country a "system of modern day slavery."  
What will happen next? There currently is a semi-independent inquiry into the 2022 World Cup bid, led by former New York district attorney Michael Garcia. And if Qatar loses, the U.S., Japan, Australia, South Korea and England could have another shot at being the host. 
It's important to note that while the odds are not in Qatar's favor, they were not really in Brazil's either. There was significant hysteria leading up to the 2014 World Cup that is playing out fairly smoothly right now. 
And despite all of the concern, no one seemed to be complaining about the country's transportation, graffiti or slums during Van Persie's goal-heard-round-the-world.