Brazil's Subway System Has Erupted in Terrifying Chaos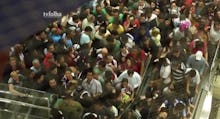 The news: If you are planning on attending the World Cup in Brazil, there's a lot you have to worry about: With just three weeks to go before kickoff, there are tens of thousands of protesters on the streets, an alarming spike in robbery-murders and increasing tension between the authorities and favela gangs.
And now you have to worry about the subway as well.
On Tuesday, bus drivers in the city of São Paulo went on strike, closing down around half of the city's bus terminals. That meant that 300,000 people had to find a different way of getting home, and many of them decided to descend to the same metro station — resulting in this terrifying underground chaos:
Image Credit: Splod
And if you're an agoraphobe (or anyone who likes to use public transit without being violently squashed by an angry crowd and the stench of body odor), you're not going to enjoy the full clip either — Brazilian paper Folha de S.Paulo posted the video online, and you can see people fainting, fighting, jostling security guards and screaming to get out:
Why this is important: Brazil has been getting hammered in the press for its unpreparedness for the World Cup, and images like this are certainly not helping.
It's also not an encouraging sign to see that São Paulo's metro system cannot handle an influx of 300,000 passengers — given the fact that that's the precise amount of people estimated to attend the games in a few weeks.
But bus drivers are not the only people striking: The country's police have also walked off the job to demand for higher wages in 14 cities — six of which are hosting the World Cup games. Federal police have threatened to strike again during the games if their demands are not met. "If the government does not show willingness to negotiate, we do not rule stopping during the Cup," said Marcelo Novaes, the police union's president in Rio.
And without a functional bus system and police officers to maintain order, São Paulo — a city of 11 million — is in danger of being overrun with chaos. The clock is ticking down to kickoff time, but a clear solution is not yet in sight.