50 Years From Now, We Might All Be Thanking This Guy for Saving Music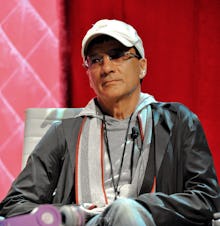 Co-written with Ben Naddaff-Hafrey.
For years, the music industry has been lost. In the past month, though, the future of the industry has become clear: Streaming and curation will be how we listen to music in the future. It's the dawn of a new industry — one led by the giants of the tech world, and not the labels.
Apple started the frenzy with their acquisition of Beats Electronics and Beats Music for $3 billion. Then, Amazon announced their own streaming service: Amazon Prime. Google was rumored to be in talks to acquire their own streaming/curation service, Songza. And then YouTube announced their own — a service they'd establish by forcing anyone who wouldn't join them in the endeavor off the video streaming site. Things are getting ugly fast.
Every one of these tech companies wants the future of the industry; the chance to select the music you hear, provide it and pay artists next to nothing for it. It seems irrevocable, but there's actually one person in the midst of it all who could do something about it: Jimmy Iovine.
Image Credit: Darren Robbins
As Amazon, Apple and Google try to compete with already formidable streaming competitors like Spotify and Pandora to control what we hear, it's become increasingly clear that effective curation is the key feature that could give one streaming service that critical edge over the next. But when the tech companies take on the role of music labels, a lot could be lost. Innovative music, longshot artists and little-known cult favorites might get buried in a sea of trends and algorithms. Iovine is one of the last great music industry men shaping the new world of music.  
While Iovine has been no stranger to the public eye as Beats has gained notoriety over the past few years, he's actually been a formidable behind-the-scenes player in the music industry for the last four decades, boasting a decorated career that spans record producer to TV personality (he spent three seasons as an American Idol adviser) — and he's long championed human curation over that of an algorithm. He's one of old school music's last viable hopes — a man who still believes the artists matter.
Born in Brooklyn, N.Y., in 1953, Iovine landed his first music industry gig cleaning a recording studio when he was a teenager. He eventually became a recording engineer, contributing to the production of over 250 albums for artists like Bruce Springsteen (a good friend), Tom Petty and the Heartbreakers, Patti Smith, Lady Gaga and U2.
Working behind the control panel gave Iovine an inside look at how to interact with artists and led to the artist-first mentality he's come to be known for (which, at one point, involved dating Stevie Nicks). Most importantly, Iovine's time in the booth taught him what it takes to make a hit record, a critical skill he'll put to use in fighting the battle for streaming supremacy at Apple.
He has a preternatural ability for spotting trends, too. Back when he started Interscope Geffen A&M, Iovine built a lot of the company on his faith that rap would be a big trend. He even discovered Eminem. Partial Interscope-owner Atlantic Records felt differently, though and sold their original 53% stake in Interscope due to their fear that rap would never take off. It did. 
As the New York Times reports in a recent piece on the Apple/Beats deal, he's had similar luck in the tech industry. This is not Iovine's first rodeo in Cupertino, Calif., — he was one of the first people to see iTunes and played an integral role in easing the skepticism of record labels hesitant to get on board with selling digital music. His industry relationships and understanding of the needs of artists will be valuable assets as Apple tries to dethrone Spotify, who works closely with artists through programs like Spotify Sessions but still struggles to bring some major new releases on board, like those from Coldplay and the Black Keys.
But this is a dark time for music. Even if streaming companies make more money, it seems artists are only ever seeing less of it. Iovine is the rare person with the background and the power to change that. He knows that real music lives in basements and garages across America, not boardrooms.
That's a faith that's guided him through his career. In a profile called "Jimmy Iovine: The Man With the Magic Ears," Rolling Stone asked him, "How do you see the future of recording?" He responded:
"All you hear every day is how not cool the record industry is. That's going to have an effect on who gets into music. All you need is a new Bruce Springsteen deciding he's going to work for Apple —  or create his own. Look at the intensity and force that went into making Darkness [on the Edge of Town]. If Bruce ever had a fucking excuse not to do it, maybe he would have chosen not to."
That faith might be what the future of music needs if it's going to keep its soul.