A Silent Protest Has Been Sweeping College Graduations Across America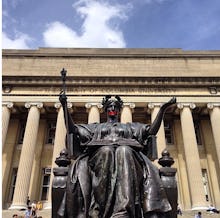 The news: Some new grads are taking the opportunity not only to celebrate during graduation season, but also to highlight a worrying issue on college campuses across the country.
This year, more than 50 schools have been rocked by Title IX investigations, responding to students' complaints that these schools have not been adequately addressing on-campus sexual assault. While the issue has garnered widespread media coverage, student activists have also been working hard to express their frustration and pressure their schools to respond better to sexual crimes. For seniors, their commencement ceremonies became their final opportunity to stand up publicly for victims of sexual assault by donning the "red tape" that surrounds many of these investigations:
How this came about: Columbia students have been some of the most vocal critics of campus regulations surrounding sexual assault. They have staged several high-profile protests, from stopping alumni donations to writing the names of alleged sex offenders on bathroom stalls. The "red tape" trend also repeatedly started in Columbia back in the early 2000s, and students have revived it for this graduation season.
"Throughout that school year, hundreds of Columbia students started wearing red tape on their wrists, their backpacks and any other items they'd carry with them frequently," Tracey Vitchers, the communications coordinator for Students Active For Ending Rape (SAFER), told ThinkProgress. "It was supposed to symbolize the bureaucracy of the old policy, to symbolize administrators really shutting students' voices out of the reform process, and really call attention to the issue at hand — the college is putting all this red tape in front of students."
Image Credit: Bwog
Since then, "red tape won't cover up rape" has become the final act of protest of outgoing seniors and students. Professors at other institutions have adopted the symbol as well:
The movement also caught on at Stanford, where a student named Leah Francis has gone public about how the school mishandled her sexual assault case. Her assailant, a former student, got off with nothing more than a five-quarter suspension that is set to begin this June, which means he still got to walk at commencement with Francis and other classmates. The ensuing outrage led to students using the red tape and a new hashtag to express their anger: #StandWithLeah.
A final message: Though most of these students will no longer be on campus to protest their schools, their red-taped caps and gowns served as a powerful reminder to officials that they will continue to fight against sexual assault, even on their way out.
"Even as graduates of this institution, everyone has a responsibility to continue to fight for a safe Columbia," Columbia student Zoe Ridolfi-Starr told ThinkProgress. "Graduation is an important day for people, and I think some felt like this day is sacred and should be free from protest. But I actually think that it becomes even more important on special days, and on ceremonious days, to continue to fight for what we know to be right. It's important that we do it even when it's hard."