9 Meryl Streep Roles That Changed the Course of Hollywood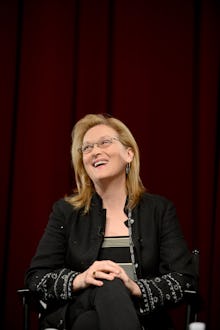 Meryl Streep is about as legendary as you can get in Hollywood: 18 Oscar nominations (three wins, of course), multiple box office smash hits and unparalleled respect from her critics and peers. She is the queen of her craft and has used her talent and clout to pave the road for women in the industry. 
Throughout her career, Streep has remained a staunch advocate for women in the business, and the breadth of diverse roles she's taken on have pushed the boundaries and broken new ground for women on screen. After four decades in the business, Streep is still a pioneer.
In honor of her 65th birthday, here are nine characters Streep played that changed the direction of how women on film were perceived and written for. Without these important roles, the course of Hollywood story telling would be entirely different. 
1. Linda, 'The Deer Hunter' (1978)
Streep's first significant role came in the groundbreaking film The Deer Hunter. On the heels of the Vietnam War, the movie tackled the conflict and consequences of the controversial war and starred Robert De Niro, Christopher Walken and John Cazale, among others.
While the film itself was profound in its portrayal of the conflict, it successfully showcased the effect war has on those not on the front lines. Up until the late 1970s, women were rarely used to showcase the realities of war. Before then women were names on the other end of letters, refugees, Nazi spies and romantic foils if anything at all.
Streep's superb portrayal of Linda, the girlfriend of a Vietnam vet, put women firmly into the conversation about the dynamic struggles of war on screen.
2. Joanna Kramer, 'Kramer vs. Kramer' (1979)
Much in the vein of Sophie's Choice, Streep's role as Joanna Kramer transformed the way Hollywood — and its audience — viewed certain types of women. In this case, stay-at-home mothers.
Mothers in pop culture up to that time were predominantly seen as caregivers. They were either good or bad at that job — there was no gray area. At a time when the women's movement was in full swing and divorce was on the rise, the film examined the breakdown of a marriage in a unique way and a mother who was more complicated than bad or good.
Joanna leaves her workaholic husband and child to "find herself" only to return and sue for custody. However, even as the antagonist, the audience feels for Joanna as she pleads her case.
Streep forced audiences to relate to this "new" type of woman and, in the process, showed Hollywood that even the unpopular female character deserves to be fleshed out. Streep's portrayal of Kramer paved the way for the likes of Jasmine French (Blue Jasmine), Leticia Musgrove (Monster's Ball) and Constance Sumner (Unfaithful) — unsympathetic female characters we can't help but to sympathize with.  
3. Sophie, 'Sophie's Choice' (1982)
A film centered on a female Holocaust survivor as she navigates life after one of the worst tragedies the world has ever known is not exactly the recipe for a hit.
Additionally, most Holocaust films focus on the male experience, or at least they did before Streep stunned in Sophie's Choice.
Including a female protagonist on top of what wasn't exactly appealing to Hollywood execs, financially, made Sophie's Choice a revelation. Streep helped show the world that emotional dramas focusing on women's experiences can be successful, both critically and commercially.
4. Madeline Ashton, 'Death Becomes Her' (1992)
By the early '90s, Streep was mainly classified as a dramatic actress, but with a comedic turn in Death Becomes Her she showed off her range. Playing an aging actress against Goldie Hawn and Bruce Willis, the film wasn't the most well received of Streep's career. However, it was a surprisingly poignant, if not quite goofy, look at aging in Hollywood.
Streep's choice to play Madeline was an important one because it fought against type-casting. This film took Streep out of her comfort zone and showed Hollywood that women don't need to be pigeon-holed as comedic or dramatic.
In earlier years, the 1940s and '50s, actresses were given more thematic freedom to explore their craft. The likes of Katherine Hepburn won accolades for all types of roles. As the decades progressed, however, Hollywood seemed more content to corner its major stars, both male and female as types. 
With Streep picking a role like this, it opened doors for others to get the best of both worlds. 
5. Francesca Johnson, 'The Bridges of Madison County' (1995)
An older man pursuing an age-appropriate romantic partner? A 40-year-old woman as a sexual being? Not your average Hollywood plot line, at least not until Streep and Clint Eastwood steamed it up in The Bridges of Madison County. Previously, the age differences of those like Humphrey Bogart and Lauren Bacall were the norm. But this film presented an alternative, perhaps more realistic, view.
This romantic drama is important for its depiction of Streep's Francesca Johnson, a 40-something housewife, as a viable romantic option. Streep was not only age appropriate, she normalized the depiction of women in their 40s to be considered romantically desirable.
It's no coincidence that following this film, female characters started getting slightly older: Sex and the City gave us Samantha and The American President gave us Sydney Ellen Wade.
6. Miranda Priestly, 'The Devil Wears Prada' (2006)
Light-hearted films about women are usually called chick flicks and then thrown aside. Streep redefined what could be done with a movie of this ilk with her role as the devilish editor of Runway magazine. As the bitch on wheels, Streep took what could have been a one-dimensional villain and turned her into a character portrait of an aging woman within the fashion industry.
Streep gave Priestly depth, complexity and even sympathy. This role proved that films about women — even light-hearted romantic ones — can still command audience respect and tell a story worth telling. Now it is the norm for even the villain in film about women to actually have some depth — look no further than female-centric films like Bridesmaids and Pitch Perfect for proof. 
7. Donna, 'Mamma Mia' (2008)
"It's so gratifying because it's the audience that nobody really gives a shit about."
That's how Streep described the success of Mamma Mia. The audience in question, of course, being women. It was a film that should not have been a hit, at least by Hollywood standards. It was female-led and featured ABBA songs. And yet, it wasn't just successful — it was a smash. No small part of that is due to Streep and her Oscar-nominated talents. 
Streep's role as Donna showed that women are a viable target audience, long before Elsa or Katniss were proving the same. Streep also gave box office legitimacy to a genre that was starting to wane and an audience that Hollywood wasn't even thinking about. Bet they're thinking about them now. 
8. Jane Adler, 'It's Complicated' (2009)
Hollywood would like us to think of 60-year-old women as grandmothers and women past their prime. With Streep's help, that stereotype is being overturned. In It's Complicated, Streep stars as a divorcee navigating the dating pool. Like The Bridges of Madison County, her romantic partners are age appropriate and attractive. While a rom-com about people in their 60s was a gamble, she helped break down that stereotype that actresses over 50 are no longer viable commercial commodities.
This role also marked an important phase in Streep's career. As of late she has quietly been starring in female-written and/or directed features, sending a statement to Hollywood that this is a group she won't let be ignored any longer.
9. Margaret Thatcher, 'The Iron Lady' (2011)
The political biopic: a male-dominated genre if ever there was one. Streep's role as Thatcher represents a continuing trend in her career — taking on unsympathetic characters and imbuing them with sympathy. In portraying one of the most controversial politicians in recent history, Streep built upon the momentum Helen Mirren created with The Queen and showed Hollywood that female world figures should not be ignored.
With another Oscar and decent box office returns, the role made Hollywood take notice. With films about Emmeline Pankhurst (starring Streep and written/directed by women no less), Alina Castro and Mother Teresa on the horizon, it's hard not to expect a little bit of Streep's Thatcher in each of those.