The 26 Best Songs of 2014 (So Far)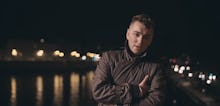 On this week's Billboard charts, Lana Del Rey's Ultraviolence and Sam Smith's In the Lonely Hour snagged the number one and two spots respectively. That's a huge deal for real music lovers everywhere — two career-making albums from arguably the biggest rising stars of a new generation are also two of the most popular in the country. That only goes to show how important 2014 has been for music. We're just over halfway through the year, so it's a good time to stop and take inventory of our musical output. 
There are some chart-toppers here, but this isn't a list of the best-selling songs of the year. If you want that, go check out the Billboard chart archives for 2014. Instead, these are the 26 songs, in alphabetical order, from the past year that have pushed music forward in one way or another, whether through record-breaking sales, powerful social commentary or sheer artistic force. Here they are:
1. "Babylon" by SZA ft. Kendrick Lamar
SZA, the first woman signed to Top Dawg Entertainment, gets a little help from friend and label-mate Kendrick Lamar on this slow, ethereal number off her third album, Z. Lamar's rapid-fire delivery is the perfect foil to SZA's mellow, chillwave vocals. Together, they make for a dynamic listening experience.
2. "Bad Girl Phase" by Sunny Sweeney
Sunny Sweeney is one of the most underrated artists on Nashville's Music Row. Her latest single "Bad Girl Phase," which was co-written with the fantastic Brandy Clark (who also co-wrote tracks like "Mama's Broken Heart" and "Follow Your Arrow"), is a twangy take on a side of femininity rarely represented in country music — the real one.
3. "The Body Electric" by Hurray for the Riff Raff
Alynda Lee Segarra, known by her stage name Hurray for the Riff Raff, started hopping trains when she was 17, and you can hear that rambling spirit in her dark brand of American folk music. "The Body Electric" is a clever inversion of the traditional murder ballad — a haunting song sung from the perspective of the victim. It shows Segarra to be as politically astute as she is musically talented — a new folk prophet for a new generation.
4. "Brooklyn Baby" by Lana Del Rey
"Brooklyn Baby" is either a stinging indictment or ringing endorsement of so-called Brooklyn "hipster" culture, and the genius lies in the track's tell-tale inability to commit. As paradoxical as Del Rey herself, "Brooklyn Baby," off her chart-topping new album Ultraviolence, name-drops Beat poetry and boyfriends in bands over a lush backdrop of strings and drums. It's as soothing as it is sarcastic.
5. "Dedicated" by Mariah Carey ft. Nas
While the dramatically-titled Me. I Am Mariah...The Elusive Chanteuse was not a commercial success, it was a critical one and served as a welcome return to form for one of pop's best vocalists. "Dedicated" is, as its intro suggests, a walk down memory lane, reminiscent of Golden Age hip-hop and '90s R&B.
6. "Digital Witness" by St. Vincent
Dystopian pop may not be a real genre, but if more artists were making music like St. Vincent's it would likely catch on quickly. A horn-laden cautionary tale against digital dependence, "Digital Witness" is as danceable as it is damning. It's also the song that helped launch indie hero St. Vincent into the mainstream, so she can now warn way more people about what's happening to their minds.
7. "Fancy" by Iggy Azalea ft. Charli XCX
Arguably THE Song of the Summer 2014, "Fancy" didn't make it to the top by mere chance. The combination of Azalea's southern-by-way-of-Australia drawl with Charli XCX's devil-may-care chorus proved to be a lethal one-two punch worthy of a multi-week stint at the top of the charts.
8. "Good Kisser" by Usher
Few artists have had the career longevity of Usher. Active since the early '90s, Usher has not only managed to stay relevant, but he's also continued to innovate with tracks that play into current trends without sounding derivative. "Good Kisser" draws from classic R&B while riffing on the falsetto-driven disco pop overwhelming today's airwaves. It makes "lipstick on [your] leg" sound like something worth aspiring to. That's impressive.
9. "Gooey" by Glass Animals
Who knew that lyrics like "ride my little Pooh Bear" and "peanut butter vibes" could be so sexy? British quartet Glass Animals make it work, though, with a slow-burn track that's already made waves on alt-radio and is starting to permeate the bigger pop stations. 
10. "Gust of Wind" by Pharrell Williams
Although "Happy" and "Come Get It Bae" have gotten all the attention so far, G I R L 's best track is far and away "Gust of Wind," a reprise of Williams' Daft Punk disco-fest "Get Lucky" that demands listeners get up and move.
11. "Happy" by John Fullbright
John Fullbright made a name for himself in the Americana community with his Grammy-nominated debut album From the Ground Up. His second album, Songs, has earned Fullbright further acclaim. Tracks like "Happy" that show he can craft a hook just as well as he can a story — this is real Americana music that all of America can appreciate.
12. "Just One of the Guys" by Jenny Lewis
Jenny Lewis has always been so much more than just a chick who can hang. On "Just One of the Guys," the lead single from Lewis' first album in six years, the former Rilo Kiley frontwoman offers a twangy look at what it means to be a modern woman in a dude-dominated crowd.
13. "Little Red Wagon" by Miranda Lambert
It's damn near impossible to choose just one song from Miranda Lambert's stellar, critically-acclaimed Platinum, but it's even more impossible to get "Little Red Wagon" out of your head. The track, like the album, shows that women in country music are more than just pairs of Daisy Dukes — particularly with lines like, "I love my apron / But I ain't your mama." Backyard swagger, indeed.
14. "My Silver Lining" by First Aid Kit
Stockholm sisters Johanna and Klara Soderberg are First Aid Kit, a Swedish folk duo doing Americana just as well as any natives could (kind of a trend with Swedes). "My Silver Lining" is lush with harmony and layered instrumentation. It's a combination so magical that David Letterman offered to be the sisters' errand boys after they performed on The Late Show. 
15. "Options" by Luke James ft. Rick Ross
Get used to the name Luke James, because you're going to be hearing it a lot soon enough. James's latest single "Options" is somewhere between Miguel and Frank Ocean (James actually went to high school with Ocean.), with soulful vocals over a textured electronic backdrop. It builds exquisitely until Ross tears it up with a verse toward the end.
16. "Problem" by Ariana Grande ft. Iggy Azalea
The grammar is questionable, but that beat is not. "Problem" is budding pop star Ariana Grande's best single to date and the numbers back it up. Bolstered by fellow chart-topper Iggy Azalea, "Problem" is pure pop gold — a song sure to establish Grande as one of pop's elite.
17. "Rather Be" by Clean Bandit ft. Jess Glynne
"Rather Be" dominated pop charts across the globe thanks to an intricate blend of strings, synthesizers and soulful vocals that combine for a truly joyous listening experience. Since making it over to the States, "Rather Be" has hung around the top of Spotify's streaming charts, recently breaking into the Top 40.
18. "Salute" by Little Mix
When Destiny's Child broke up in 2006, the void they left was seemingly unfillable. Let Little Mix fill some of the hole in your heart, though, with "Salute," a hook-laden girl power anthem that'll have you ready to hit the dance floor and kick some ass. 
19. "Sanctified" by Rick Ross ft. Kanye West and Big Sean
Yeah, the verses are great, but that Betty Wright sample is what really makes this track. What sounds like an old soul song is actually a new recording by one of hip-hop's most important matriarchs you've likely never heard of. Ricky Rozay, Yeezy and Big Sean do deliver, though, on what is easily the standout track on an otherwise spotty album from Ross. 
20. "Seasons (Waiting on You)" by Future Islands
Go ahead, try to listen to "Seasons" without smiling. The Baltimore trio recently took the Late Show with David Letterman audience by surprise with one of their trademark high-energy performances of the retro-soul-meets-M83 single, eliciting a pretty enthusiastic response from Letterman himself. 
21. "Stay With Me" by Sam Smith
2014 has been the year of Sam Smith. While Smith found notoriety guesting on tracks for artists like Disclosure and Naughty Boy, "Stay With Me" solidified the 22-year-old Brit as a star in his own right. With confessional lyrics and gospel harmonies that'll take you to church, "Stay With Me" is a song meant to be worshipped.
(It's not available on Spotify, so we've included the opening track off In the Lonely Hour, "Money on My Mind.")
22. "So Blonde" by EMA
No stranger to social commentary, EMA tackles the age old blonde-as-lust-object trope in "So Blonde," a track from her album The Future's Void. It combines dreamy California pop with Kim Gordon-worthy vocals. "The smiling blonde white woman is the most exploited image in the world," she says. "Can we talk about that?"
23. "Sunbathing Animal" by Parquet Courts
Parquet Courts are one of the most exciting breakouts of the last year and "Sunbathing Animal" shows why. The track is a four-minute drum and guitar assault that blends the aggression of punk with the swagger of rock into something undeniably fresh. 
24. "Take Me to Church" by Hozier
A sex-as-religious-experience paean a la Leonard Cohen's "Hallelujah," "Take Me to Church" establishes Irish songwriter Hozier as one of the best breakouts of 2014. It's so good that notorious hitmaker Ryan Tedder named it as the one song wished he'd written from the past year.
25. "Turtles All the Way Down" by Sturgill Simpson
"Turtles All the Way Down," with its "reptile aliens" and Stephen Hawking-worthy imagery, isn't exactly country radio fare, but that's exactly why some have dubbed Simpson the (reluctant) "Savior of Country Music." It's a great introduction to Simpson's recent album Metamodern Sounds in Country Music, a long strange trip that's as much Hawking as it is honky-tonk.
26. "Words I Don't Remember" by How to Dress Well
A crystallization of pop, R&B and electronic music, How to Dress Well (also known as Tom Krell) has become known for dreamy bedroom meditations on love and loss. "Words I Don't Remember" is the standout track from Krell's most recent release "What Is This Heart?" thanks to tight instrumentation and "Marvin's Room" vibes.