Here's How Vancouver Responded to London's "Anti-Homeless Spikes"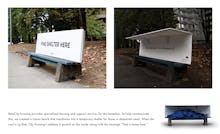 The news: A Vancouver charity, RainCity Housing, is converting city benches into pop-up shelters for homeless people. And by giving homeless people in this rainy city some dry coverage and a place to rest, RainCity is putting London's anti-homeless spikes to shame. 
The company specializes in accommodation and support services for the homeless in Vancouver. They used designs that feature welcoming slogans on the bench backboard. During the daytime, the benches are places to wait for a bus or sit. At night, they convert into usable shelters where the backboard lifts up to provide shelter. 
The daytime city bench uses UV rays from sunlight, so the bench reads, "This is a bench." Then at night, glow-in-the-dark wording appears, saying, "This is a bedroom," and drives people to the RainCity website. 
Another bench installation reads, "Find shelter here," and when the bench's back support is raised up, it says, "Find a home here," providing the address of a RainCity shelter.
Quite the opposite of what we saw in London: In early June, metal spikes were placed outside of a luxury apartment building to curb homeless people from sleeping in the areas at night. 
Similar studs were installed outside of a Tesco supermarket in London, reportedly "to try and stop people [from] engaging in anti-social behavior like smoking or drinking outside [the] store." But once the media caught on, the so-called anti-homeless spikes were denounced for their cruelty. 
A media frenzy ensued. Some activists took to cementing over the Tesco spikes.
Image credit: Vice
A 120,000 signature-strong petition pleaded for the luxury apartment to remove theirs. Even London Mayor Boris Johnson described the studs as "ugly, self-defeating and stupid," and demanded that they be removed immediately. After the backlash, Tesco eventually removed the studs outside the supermarket.
RainCity's benches show that a rampant urban problem can be solved in a civil way: The benches offer a shelter and direct people to actual shelters. More so, there are proven economic benefits of helping homeless people find shelter instead of leaving them on the street. It makes a lot more sense to treat humans with dignity while solving the problem.
Image credits: Spring Advertising