Meet the Brilliant Female Indie Artist Who Just Rocketed Into the Mainstream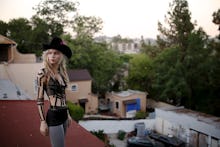 The name Grimes doesn't exactly conjure images of mainstream success. For a while, that was just fine with kooky electro-pop artist Claire Boucher, who made a name for herself among the indie crowd on Tumblr. But late last week, she broke a period of musical silence with "Go," her new single featuring Blood Diamonds. Suddenly, everything changed.
This sounds nothing like Grimes — it was written for Rihanna, and it sounds like it. The rabid press response and over 700,000 plays in a matter of days sounds like Rihanna, too. But this isn't how it used to be for Grimes.
Grimes may have been around for a few years, but it was a couple of years ago in 2012, when her third album Visions was released, that she started getting attention in some offbeat circles. Although the media helped her garner marginal fame — her album was critically acclaimed and topped end-of-the-year album lists — the key to Grimes' small-scale success was her grassroots work on Tumblr. 
She's more or less the ideal of indie, then. Grimes looks like an archetypal Tumblr character. She is thin and extremely pale with an indie fashion aesthetic. She rocks unconventional haircuts and colors and has an overall eccentric aura. For many modern, alt-girl Tumblr users, she's reblog gold. In addition to being a blogosphere mainstay visually, Grimes is a blogger herself. She runs a successful Tumblr, where she makes posts about issues that are almost stereotypically Tumblresque, like feminism and veganism.
She's seen as adorable with a fiery edge. It is no wonder that many people can, for better or worse, view her as the quintessential manic pixie dream girl of the synth-pop world. She's everything a teenage blogger wants and more. She's practically as bloggable as the sad-girl hipster queen Lana Del Rey.
But since 2012, she's been largely silent musically. "Go" has broken that period, but it sounds nothing like the old Grimes. It sounds like an epic pop song. The singer's trademark baby doll lisp has been replaced by purer vocals under a more EDM-based beat. Her music is less experimental and much more palatable to the general public, as are her lyrics — it's a simple love song with a repeated syllable on the chorus (Rihanna would've nailed that "Go go go"). This is for a mainstream audience increasingly interested in feeling alternative without necessarily feeling up to Grimes' "Genesis." Grimes is at the forefront of a major cultural shift.
It's a new trend for an increasingly decentralized mainstream music scene. The same exact thing happened to Chvrches not long ago. It seemed like that group appeared out of nowhere — and really, it's because they did. After forming in 2011, the band spent two years as obscure indie darlings before releasing their debut album in 2013, The Bones of What You Believe. The album sent them into the stratosphere, earning them the No. 12 spot on the U.S. Billboard 200 and No. 9 on the U.K. charts. Increasingly over the last few years, the mainstream has been realizing that indie music can be pretty fun.
"Go" isn't just a single, then. It's a clear sign of what's happening in music as a whole. Indie and EDM are currently in transition. Some are worried that electronic music is a dying genre, but really it's transforming with the help of artists like Grimes who are incorporating popular electronic elements into their alternative music and packaging it for the top-40 crowd instead of a niche "hipster" group as before. Just like a few years ago when all we wanted on the radio was dubstep, we now want indie and electronic. Popular music has had a bad reputation for being manufactured and formulaic for as long as it's been a concept. Seeing bands like Chvrches and Grimes rise to the top is a sign of change, then — of good things to come in our national taste.