The City You'd Least Expect Looks Ready to Legalize Marijuana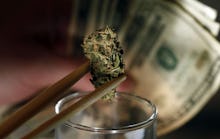 The news: This November, it's all but certain that D.C. will vote on a marijuana ballot measure and even pass it. There's just one thing standing in the way: Congress.
Legalizing pot is more popular than ever in Washington, D.C., with residents supporting the measure by a ratio of 2 to 1. But a recent budget measure passed by House Republicans prevents the District from spending any money on loosening penalties for marijuana, which means the ballot initiative may never get a chance to be voted on. So activists in D.C. decided to take to the streets to petition for their right to vote.
It's been a resounding success. The activists are already close to 60,000 signatures, far more than the 22,600 needed to ensure the measure lands on the ballot. There are still some legal hurdles to cross, but the message is loud and clear: District residents are not going down without a fight.
The legal conundrum: Because D.C. exists in a limbo when it comes to governmental representation, there are often financial complications when there are conflicts between the D.C. City Council and Congress. In March, the council voted nearly unanimously to decriminalize possession and consumption of small amounts of marijuana. Last month, House Republicans decided to block funding for this precise law.
The only way forward for D.C. residents is to demonstrate overwhelming support for the measure — but even their petition might not work. "Should federal lawmakers pass a spending plan with the restriction before Nov. 4, there is precedent for D.C. elections officials to decide that they are prohibited from counting votes on the issue," explains the Washington Post. "If Congress hasn't passed a budget by then, however, there is a strong chance that on Nov. 4, the District will legalize pot."
For many D.C. residents, it's a risk even putting their name on a public petition: Many work for government agencies that might even penalize their employees for publicly supporting marijuana legalization. But the shots have already been fired and come November, there's a good chance that the nation's capital might go green.