How Wikipedia Vandals Are Proving This Is Truly the First Social Media World Cup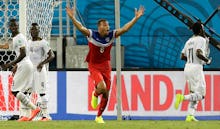 "Tim Howard has done more for the United States than Obama has."
That tweet got 16-year-old Connor Killian of Keller, Texas thinking. Not about Obama's domestic policy achievements, but about how Killian could write his own Howard joke for his followers on Twitter who, like him, were watching the 35-year-old goalkeeper put together a record-breaking 16-save performance against Belgium in the World Cup.
"Howard had been a beast all game," Killian, a rising junior football player, said in a phone interview. "That Obama tweet was racing through my mind and I started thinking about the Cabinet and then realized the Secretary of Defense would make for a really good comparison."
So with the United States' game in extra time, Killian went to the Wikipedia page for the U.S. Secretary of Defense and replaced a photo of Chuck Hagel with one of Howard near the top of the page. The caption read, "Incumbent: Tim Howard since July 1, 2014."
Killian's tweet of the newly edited page garnered two re-tweets and 10 favorites, but it didn't take off. Over the next few hours, though, other people on Twitter took notice: 
By the next morning, Killian's act of Wikipedia "vandalism" was heralded by Wikipedia co-founder Jimmy Wales and headlined stories written by USA Today, the BBC, Time and plenty of others. Secretary of Defense Chuck Hagel even called Howard on the phone and said that one day the goalkeeper could succeed him.
But it wasn't until Thursday afternoon that Killian thought to see if someone had taken down the photo of Howard. The possibility of his contribution going viral hadn't even dawned on him.
"I Googled the Wikipedia page just to see if it was still there," Killian said. "Then I noticed that there were a bunch of Google News articles written about my edit. I was shocked."
He wasn't the first U.S. fan to take advantage of Wikipedia's viral potential.
Two weeks ago, a 19-year-old college student, fresh off of celebrating U.S. defender John Brooks' game-winning goal over Ghana, walked out of his family's New Jersey basement and into a 7-Eleven.
By the time Doug returned home, Slurpee in tow, the Belmar native discovered that his one-sentence Wikipedia edit -- "[John Brooks] is the greatest american [sic] since Abraham Lincoln." — was on its way to becoming a viral sensation. 
The edit lasted on the website for only about one minute, but during that short time, Doug's bold statement had been noticed. Screenshots of Doug's "vandalism" would be re-tweeted more than 10,000 times, with the prank being referenced by Sports Illustrated, CNN and the UK's Daily Telegraph, among many others. ESPN commentator Jon Champion mentioned it during the broadcast of Ghana's next game.
"[My friend and I] like to say stuff like Xabi Alonso is the Spanish Michael Bradley or that Clint Dempsey is the greatest American captain since Douglas MacArthur," said Doug, who did not wish to reveal his last name. "Half the fun of supporting the U.S. team I think is doing stuff like that — using the attitude that America is the best at everything and applying it to something that we clearly aren't."
Overjoyed after Brooks' dramatic game-winner but with no one in his basement to celebrate with besides his two cats, Doug had logged on to Wikipedia and made his famous contribution to Brooks' page.
Doug wasn't the first to do so. In fact, in the 11 minutes since Brooks had scored his goal, seven other acts of Wikipedia vandalism had been thwarted, including, coincidentally, the proclamation that Brooks "is now among the ranks of John F. Kennedy, Chuck Norris and Abe Lincoln as American heroes."
"I was pacing around the room like a madman for the last 20 minutes," Doug said, whose username TrynaGetThePipe is a reference to an infamous euphemism employed by the basketball player J.R. Smith. "Being a lifelong Knick fan has taught me to expect the worst, so I always expected Ghana to equalize, and I had little to no hope of the U.S. going back ahead. [After Brooks' header], I was caught up in the moment. Truth be told, I still don't think Brooks is ready to play any meaningful minutes, at least not yet."
Humorous Wikipedia edits are nothing new, but with so much reaction to this World Cup taking part on social media, Doug's addition struck a chord. After the game, Kelly Millspaugh, an HR professional at Angie's List in Indianapolis, went to Wikipedia to see how old Brooks was. Her subsequent screen-grab and tweet, at 8:02 p.m. ET, likely prevented Doug's edit from Internet oblivion.
Indianapolis native John Green, the author of The Fault in Our Stars, and user behind the Twitter account @sportswithjohn, is not amongst Millspaugh's 650 Twitter followers, but he came across the tweet early on and retweeted it to his more than 88,000 followers. The rest is history.
"More than anything I just thought it was cool that I made people around the world laugh, even if they had no idea who I am," Doug said.