The Worst Part of Robin Thicke's Controversial New Album: It's Not Just Creepy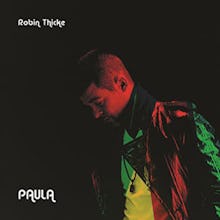 Robin Thicke has been in the news lately for being creepy, sexist and unfaithful. A little more than a week ago, he appeared bloodied and battered in the video for the single "Get Her Back," a plea for his estranged wife to return that featured a slew of texts and revealed he really just doesn't know that no means no. That all escalated when he hosted a Twitter Q&A called #AskThicke and was immediately reamed for being a creep. This week, he finally released the album.
Paula adds one more grave offense to the list: being terrible at music. While so many great pieces of musical art have been spurred by heartbreak, Thicke has taken his own and churned out an hour of shlocky self-pity.
In case you didn't know, Paula is about a real life person, Paula Patton; Thicke and Patton dated for over a decade before getting married and have a child together. After a "mutual" and then actually bitter breakup, Thicke apparently decided that the best way to get her back was to pen an entire album in her name and rally the good people of the Internet around the cause of winning back his (rightfully) estranged woman.
And no, these songs have no chance of winning her back. The first song on the album, "You're My Fantasy," is bound to be a big hit for the elevator muzak industry. Perhaps Thicke can get her back if she's waiting in the lobby. To call it a bossa would be an insult to the great Brazilian genre; rather, the acoustic guitar runs, delicate shakers and breathy harmonies shouldn't be played outside of tourist trap hotel lobbies in Copacabana.
Meanwhile, Thicke's vocals across the whole album have hit a new low: He's confused emotional turmoil for vocal weakness, and so sings the whole song in a bland whisper.
In fact, Thicke's vocals do nothing to project the apparent hardship he's experiencing. He emotes no yearning, no passion, no sorrow. "Get Her Back," his big, declaration of redemption, is done in lazy monotone. Even stranger, he sounds sloppy drunk on "Love Can Grow Back" and downright breezy while singing the lyrics "I get down on my knees / I'm begging you please baby" on "Too Little Too Late."
I don't know the man, but he seems to have a pretty poor grasp on what it means to experience and express loss.
Thicke has often had sublime production (often by Pharrell) behind him to prop up his pedestrian voice. This time, perhaps moved by genuine emotion, he decided to get in the booth himself, a move akin to if Luis Suarez decided to become a referee. The laughable piano playing on "Lock the Door" sounds like it's straight out of amateur hour at the Apollo; the song, with a chorus of female singers yet no drums, is underorchestrated and overproduced, with zero attention paid to timbre or sound quality.
There are glimpses of the talent the man has showed in prior years. There's a really interesting ambivalence and gravitas to the rumbling beat of "Black Tar Cloud," and even a bit of storytelling and symbolism to boot.
But, for the most part, Paula is musically and emotionally flat and suggests that the breakup has sapped all of his creative energies, or he is a fraud who has been propped up by Pharrell for 10 years. It makes Kanye West's own pretty bad breakup album, 808s & Heartbreak, sound like a masterpiece, for god's sake.
But there is a saving grace. "All she wants is the opposite of me," Thicke croons on "The Opposite of Me." For once, he's in touch with the public ear — and he's completely right.