The Relatives of a Murdered Palestinian Teen Receive Comfort From an Unlikely Source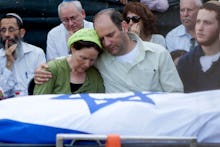 As tensions between Palestinians and Israelis remain high, there is a moment of hope in the middle of everything that is bleak: The father of a murdered Palestinian teenager was consoled by the uncle of a slain Israeli teenager.
"We expressed our deep empathy with their sorrow, from one bereaved family to another bereaved family," said Yishai Fraenkel, the uncle of Naftali Fraenkel, one of three Israeli teenagers found dead after being abducted on June 12.
The three-week search for the boys involved a brutal crackdown on the West Bank. The discovery of the bodies of Fraenkel, Gilad Shaer and Eyal Yifrah led to a social media campaign calling for revenge against Palestinians, as well as clashes and violent protests involving chants like "Death to Arabs!"
It was against this backdrop that 16-year-old Mohammed Abu Khdeir was abducted and burned to death in what is believed to have been a revenge attack. Israel has now arrested six Jewish suspects over the teen's murder. His 15-year-old cousin, Tarik Abu Khdeir, also a U.S. citizen, was arrested and brutally beaten by Israeli police during clashes in Shuafat, a neighborhood in East Jerusalem.
Image Credit: Getty Images. Tarik Abu Khdeir with his mother.
"There is no difference between those who murdered Muhammed, and those who murdered our children," Fraenkel said. "Those are murderers, and these are murderers. And both must be dealt with to the full extent of the law, and we told him that."
Two Palestinians from Hebron also paid a visit to the grieving Fraenkel family.
It's a powerful moment in the midst of a bleak picture: Israel has accused Hamas of carrying out the attack, and has now launched a deadly airstrike into Gaza. Al Jazeera reports that during the evening of July 6, nine Palestinian fighters were killed by the airstrike. Hamas has fired rockets in retaliation to the attacks.
But as the situation remains tense, it's important to remember that brutal murder is never justified on any side, and the unifying moment between two grieving families standing on the opposite sides of a dark situation shows just how universal that suffering can be.
Image Credit: Getty. The father of murdered teenager Mohammed Abu Khdeir holds a poster of his son during a meeting with with Palestinian leader Mahmoud Abbas.
As Palestinian-American civil rights activist Linda Sarsour succinctly wrote for Mic: "Mercy and compassion are emotions that should be offered to all victims — and all those oppressed."
"Pain knows no race or land. I would like to believe that the blood that runs through their veins is the same blood that runs through the veins of all children. Politics should never guide our outrage when it comes to children being murdered on either side of a situation. After all, there's no relativism in the tears of mothers."