There's Another Side to the Murder of Those 3 Israeli Teens That No One Is Talking About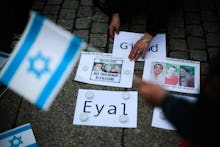 Since their disappearance last month, I have been following the story of the three missing Israeli teenagers found dead this week after being kidnapped from the West Bank on June 10, a discovery that has horrified many around the world.  
But there's a wider picture here that has been left out of telling this tragic story, and that's the price that Palestinians have had to pay for the missing boys — and the price that they will have to pay for their deaths as the Israeli government has already launched air raids on Gaza. 
During the course of the search, my family, hailing from El Bireh, a village that neighbors Ramallah, gave firsthand accounts of the nightmare that the search unleashed on Palestinians in the West Bank: There were tales of nightly searches where the Israeli Defense Forces ransacked homes, intimidated small children and their mothers, and made multiple arrests.
Image Credit: Getty Images. A Palestinian woman during a raid in Jalazon refugee camp on June 16.
The news that the boys had been murdered hit me like a punch in the stomach. As a mother of a 15-year-old boy, I can't imagine the pain their these mothers are going through. They will never see their sons graduate college, get married or have children.
Naftali. Eyal. Gilad. They all had names, personalities, futures and aspirations. Their lives suddenly ended in a heinous act of violence, and now their deaths are being used to justify further violence.
Image Credit: AP. The parents of Naftali Fraenkel embrace during the funeral of their son.
In response to the murders, U.S. Secretary of State John Kerry said, "We condemn this despicable terrorist act in the strongest possible terms. The killing of innocent youths is an outrage beyond any understanding or rationale, and the perpetrators must be brought to justice."
He's right. It's certainly worth condemning.
But where is the condemnation for the 12 Palestinians who have been killed since the start of the search, including 7-year-old Ali al-Awoor and 15-year-old Mohammed Dodeen? What about the murder of 17-year-old Mohammed Abu Khudair, who some believe was murdered to avenge the deaths of the Israeli teenagers?
Image Credit: AP. Mourners at the funeral of Mohammed Dodeen.
According to the Ministry of Information in Ramallah, 1,518 Palestinian children have been killed by the Israeli Defense Forces between 2000 and 2013. Do these children not deserve the same outrage? Did they not have names, personalities, futures and aspirations as well?  
It shouldn't be controversial to mention these deaths together and condemn the cold-blooded murder of the Israeli teens and murder of Palestinian children in the same breath — particularly when Israel touts itself as the region's only democracy. Due process is at the core of any so-called democracy and its justice system.
But justice for the teens' deaths will mean carrying out injustice on Palestinians in the form of collective punishment. On Wednesday, Amnesty International condemned Israel for the retaliatory crackdown, saying that "justice will not be served by Israel seeking revenge by imposing collective punishment, or committing other violations of Palestinians' rights."
During the funeral for the three teens, Israeli Prime Minister Benjamin Netanyahu said, "They sanctify death, we sanctify life. They sanctify cruelty, and we mercy and compassion. That is the secret of our strength."
If by "we" Netanyahu means Israel, then we may differ on the definition of mercy and compassion. Surely, mercy and compassion do not involve defying international law and criticism to continue occupying Palestinian land, building illegal settlements and carrying out missile strikes over Gaza, the world's largest open-air prison. Total disregard for innocent life is a cornerstone of Netanyahu's tenure. With one broad brush, he has defined and characterized Palestinians as inhuman in order to justify his illegal actions and those of his government.
Image Credit: AP. An Israeli air strike on Gaza. 
Mercy and compassion are emotions that should be offered to all victims — and all those oppressed. Our outrage should not be selective — it should be the same for any murder, whether committed by terrorist groups or military forces.
Palestinians are often portrayed in the media as armed militia men, children throwing rocks or women allegedly celebrating death by passing out chocolates in the streets. Seldom does the media show the human suffering that has impacted Palestinians living under military occupation.
Image Credit: Getty Images. A Palestinian woman at a checkpoint in Hebron. 
Pain knows no race or land. Palestinian mothers are human too, and their loss of life is no less tragic. As the mother of Palestinian-American children, I would like to believe that the blood that runs through their veins is the same blood that runs through the veins of all children.
Politics should never guide our outrage when it comes to children being murdered on either side of a situation. After all, there's no relativism in the tears of mothers.