63 Kidnapped Women and Girls Managed to Escape from Boko Haram. Here's How They Pulled it Off.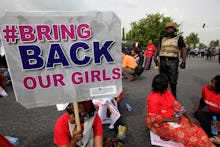 What does it take to escape Nigerian extremist group Boko Haram? As it turns out, it takes luck more than about anything else, thanks to the Nigerian government's failure to rescue the group's captives.
CNN reported on Monday that 63 women and girls held captive by Boko Haram managed to break free and return to their village when their kidnappers left to fight soldiers in a neighboring town.
The women and girls were first kidnapped June 18 from Kummabza in Borno, a northern state in Nigeria. During the course of the attack, members of Boko Haram killed 30 men and burned the village to the ground. 
But on July 4, the women and girls saw a rare opportunity to escape the grip of the radical group. 
It's a rare instance of good news in regards to Boko Haram, whose violent insurgency has led to the deaths of up to 100 civilians per week since it began using violent tactics in 2009.
The group drew international condemnation in April, when they kidnapped more than 300 girls from a boarding school in northeastern Nigeria. The kidnapping sparked an online campaign and drew support from celebrities like first lady Michelle Obama and actress Anne Hathaway. 
The women who did manage to escape and return home are far more lucky than the 200 women who remain in captivity, including five from Kummabza, according to Bukar Kyari, a local vigilante. 
While the escape is certainly heroic, it highlights Nigeria's failure to address the group's insurgency. 
Despite international attention and solidarity, Nigeria's government has failed to quell the group's insurgency. Instead, it seems as though President Goodluck Jonathan has focused instead on obscuring bad press. Last month, the government tried to halt organized protests for the girls before ultimately permitting them under pressure from campaigners who threatened legal action.
As the campaign slips out of international attention, the recent developments serve as a reminder of the short life cycle of hash tag activism, as well as the fact that online campaigns are meaningless without real-life action. Hopefully the Nigerian government will step up to the plate and finally confront the group's insurgency head on.