Emma Watson Just Gave Us Another Reason to Love Her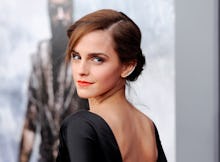 The news: The UN's website crashed on Monday, and it was all because of Emma Watson.
After news broke that the Harry Potter actress had been named as a Goodwill Ambassador, fans flocked in droves to the read the official announcement. As a result, the website went down for a few hours.
The announcement explained that Watson will work on behalf of UN Women, which promotes gender equality and the empowerment of women worldwide. Specifically, she'll be promoting the HeForShe campaign, which aims to increase the involvement of men in the fight for gender equality.
This is her latest move in a career full of activism. In 2009 Watson became the public face of People Tree, a fair-trade clothing company. She also visited a fair-trade collective in Bangladesh and met with garment workers in 2010.
Watson also participated in the #BringBackOurGirls campaign, which drew attention to the Boko Haram crisis in which 276 Nigerian schoolgirls were kidnapped in April. Joining the likes of first lady Michelle Obama and former Secretary of State Hillary Clinton, Watson tweeted out a picture of herself with the hashtag:
Besides her fame, Watson's relative youth — she's 24 — is also vital.
"The engagement of young people is critical for the advancement of gender equality in the 21st century," noted Phumzile Mlambo-Ngcuka, UN Women executive director.
Watson may have proven herself to be the actress of our generation. She follows a powerful lineage of celebrity activists. In 2012, Angelina Jolie was appointed as Special Envoy to António Guterres, the UN's High Commissioner for Refugees.And George Clooney was awarded an Emmy for his humanitarian work.
But what's made Watson a force in her own right — not to mention a role model for young people — is her use of social media to spread the word about the issues that have defined the last few years. Given her efforts with #BringBackOurGirls and the importance UN Women has placed upon engaging young people, don't be surprised if Watson continues to utilize platforms like Twitter and Facebook to share the message. 
Socially speaking. And that's the best way to engage young people, statistically speaking. According to consumer insights agency the Intelligence Group, , two out of three young people believe that "a person on a computer, being aware and spreading the word" can lead to greater change than more traditional forms of protest like rallying. Sites like DoSomething.org — which has 2.5 million members under 25 — and Change.org are further examples of the power of Web-based activism.
Lady Gaga's involvement in getting Don't Ask, Don't Tell repealed was partly thanks to social media, and It Gets Better, a project designed to empower LGBT youth, went viral across the web. Most recently, #YesAllWomen, the Internet's response to Elliot Rodger's brutal May 23 shooting rampage in California, sparked serious and important conversations about gender equality and feminism.
Image Credit: Column Five
The takeaway: Critics may lambast viral sensations like #BringBackOurGirls, #YesAllWomen or #Kony2012 as "a frictionless convenience, conducted from the safety of a computer screen," but as It Gets Better and Don't Ask, Don't Tell's repeal show they can have an effect.
As Laura Olin argues in TIME, "However trivial hashtags can feel, their most basic function is as a tool for focusing attention." Watson's new role is an extension of this. Given that her #BringBackOurGirls tweet received over 45,000 retweets — more than three times as many as Hillary Clinton, and almost as many as First Lady Michelle Obama — she has an incredible opportunity to get young people involved. UN Women recognizes this, and as their crashed website shows, people are already excited.