Add "Racist" to the Long List of Things Wrong With the NSA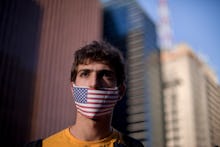 The news: The NSA has a lot to apologize for, and now we can add "being racist" to the list.
Image Credit: Getty
Uh-oh: When Edward Snowden leaked details around the agency's domestic spying practices in June 2013, he reinvigorated a collective mistrust in government. But the NSA wasn't sorry.
Then things got worse. Glenn Greenwald and Murtaza Hussain of the Intercept broke news that the agency had partnered with the FBI to monitor politically active Muslim Americans. It's a rather blatant case of racial and religious profiling. But still, the NSA wasn't sorry.
Now it's been revealed that NSA training materials used the racial slur "Mohammed Raghead" to refer to its Muslim targets. And all of a sudden:
"The White House said Wednesday that it does not tolerate racist language and as such [is] looking into the allegation," according to Al Jazeera.
Image Credit: Al Jazeera
There's just one problem, White House: What you're doing is still racist.
The irony of pursuing racially specific law enforcement tactics without apology, but expressing regret for using racist language, is laughable. It also speaks a great deal to the NSA's desire to appear outwardly non-discriminatory while maintaining discriminatory practices internally.
Talk about priorities.
How: The NSA is "supposed to show probable cause that [a] target has connections to a terrorist or spy organization." But actions speak louder than words: The Intercept states that, "in practice, the system for authorizing NSA surveillance affords the government wide latitude in spying on U.S. citizens" — which is terrible news for an already criminalized Muslim minority.
But here's the thing: None of the five men targeted have been linked to any terrorist or spy organizations, and have vehemently denied involvement in any illegal activities.
"I just don't know why," one of the targets, Faisal Gill, told the Intercept. "I've done everything in my life to be patriotic. I served in the Navy, served in the government, was active in my community — I've done everything that a good citizen, in my opinion, should do."
Thus the NSA's stated commitment to "diversity and tolerance" — combined with its theatrical public stance against "the use of racial or ethnic stereotypes, slurs or other similar language" — represents the height of hypocrisy. It directly contradicts what the agency is actually doing to Muslim Americans, and distracts from the more troubling issue at hand.
Put simply: The U.S. government is spying on its own citizens based on their religious affiliations. All things considered, referring to them as "Mohammed Raghead" or any other racial slur is probably the least of our problems.