Militants Have Kidnapped Another Huge Group of Students — And Nobody Is Talking About It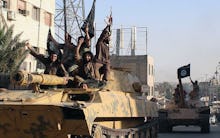 You've most likely heard about the hundreds of Nigerian schoolgirls abducted by militant group Boko Haram. The kidnappings back in April sparked outrage across the globe, with many, including celebrities, demanding that "our girls" be brought back home.
But have you heard about the boys kidnapped in Syria? Probably not. The May 30 kidnapping of 186 Kurdish boys, ages 14 to 16, passed without drumming up any outrage or attention from the world's hashtag crusaders. 
They were abducted by members of Islamic State in Iraq and the Levant (ISIL) and forced into a religious camp, where, according to the Guardian, they were told that attempts to escape would mean risking being beheaded.
One of the boys who did manage to escape, Mustafa Hassan, described what it was like to be in captivity: "Some of the boys were crying, some turned yellow with fear."
But hardly anyone is paying attention.
The boys were captured on their way back from taking some required educational tests. Their parents, living in Kobani, a city that sits right on the border between Turkey and Syria, are now left in desperation, rumors flying about their children's whereabouts. One father told the Guardian that he has lost faith that anyone outside of Kobani wants to help. He doesn't seem far off.
While #BringBackOurGirls rightfully drew a great deal of outrage, this tragedy hasn't garnered the same level of attention. It might be a question of geography; news of the boys' kidnapping is probably not trending because it might appear to be a sad story within a wider, more complex tragedy. The world has proven to be numb to the growing list of horrors coming out of war-torn Syria. 
It also might be a question of gender. Going back to Nigeria, this wasn't the first story of schoolchildren being kidnapped by Boko Haram. As Mic's Atane Ofiaja reminds us, Boko Haram has killed more than 100 schoolboys and young men in the past two years.
Image Credit: AP. Aftermath of an explosion carried out by Boko Haram in Maiduguri, in northeastern Nigeria. 
This isn't to say that one kidnapping is more important than another. But the question has to be asked: Why the selective outrage on the part of the media? Don't all missing children deserve a storm of petitions and hashtag activism?
Image Credit: AP. Hollywood actors hold up signs in support of the missing Nigerian schoolgirls.
What the kidnapped and slain boys in Nigeria and Syria have in common is that they are being targeted by extremist groups. Does viewing them through the lens of terrorism make us disconnect from the tragedy of the situation?
Extremism, of course, played a huge role in telling the story of the missing schoolgirls. But perhaps in their case, it was much easier to apply an already existing, seductive narrative: the stereotype of an angry zealot using violence against a young girl to further his feud with the West. On the other hand, the story of several young boys in a conflict-ravaged country captured by a group of powerful young militants, many of whom were just recently vulnerable and converted to terrorists themselves, is less easily digestible. It forces us to confront that moment when innocent children are transformed into bloodthirsty terrorists — a moment that might not be as black and white as we'd like.
These boys are still missing, just like the schoolgirls in Nigeria, and all of these children deserve the sort of international outrage that could help bring them back home.