9 Images That Show How Argentina Is Still Great Despite Losing the World Cup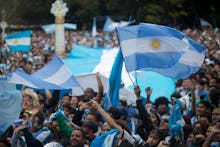 A sea of pain-stricken but still proud fans gathered Sunday at the iconic Obelisk in Buenos Aires to celebrate their team's gutsy performance in Argentina's first World Cup finals appearance in 24 years.
Image Credit: Getty Images. 
After the long journey began last month, the 2014 FIFA World Cup has finally come to a close with Germany's win over Argentina.
Despite captain Lionel Messi's failure to seal his impressive résumé by leading Argentina to victory, Argentine fans dressed in white and blue were still seen waving the national flag, honking cars, throwing fireworks and chanting "Argentina! Argentina! Argentina!" just hours after their heartbreaking loss. 
"I feel proud to be Argentine. To wear this shirt on the day of a final is priceless," said university student Marcelo Dailoff. "The players brought joy to Argentina after so long. Quite simply, thank you."
While Argentina may not be on top this time around, its citizens and fans still have plenty to be proud of. Here are nine things that make Argentina great:
1. It's the first Latin American nation to legalize same-sex marriage.
In 2010, Argentina became the first Latin American nation to legalize gay marriage, inspiring activists to push for similar laws in other countries as well. 
2. It's the first country in the world to issue a groundbreaking gender identity bill.
In 2012, Argentina's brand-new gender identity law came into effect, enabling people to change their names and sexes on official documents without seeking medical approval, surgery or other legal hurdles. 
No other country in the world has abolished state-controlled gender identity nor allows people to change their gender, image or birth name based on how they feel. 
3. There's nothing quite like Argentine beef.
Whether it is a juicy sirloin or a sizzling close-to-the-bone cut, Argentina is known to produce some of the best beef in the world. The average Argentine eats about 134 pounds of cow beef annually — the second highest in the world. 
4. It is the only Latin American country to win an Oscar — twice.
Argentina remains the only country in the region to bring home an Oscar twice in the foreign language section. The first Oscar came in 1986 for Luis Puenzo's Official History (La Historia Oficial) and again in 2010 for El Secreto de Sus Ojos (The Secret in Their Eyes). 
5. It is also making its mark on the international wine map.
Argentina's reputation for fine wines has continued to grow over the last two decades as the largest wine producer in South America and the largest producer of Malbec in the world. 
6. It is the first country to legally recognize double paternity.
In 2012, 3-week-old Tobias Grinblat Dermgerdbecame the first child to be legally recognized as having two fathers listed on his birth certificate. 
Although equal co-paternity of two men has been recognized by some local governments in parts of the world, it was the first time a national government has done so. 
7. It has one of the highest literacy rates in the world.
According to World Bank statistics in 2012, Argentina boasts one of the highest literacy rates in the world at 99% and the highest literacy rate in Latin America. 
8. It's the world leader in psychologists per capita.
While mental health has taken a back seat around the world, in Argentina, it is seen as a priority.
According to a World Health Organization study in 2005, Argentina was ranked as the world leader in psychologists per capita with 106 psychologists per 100,000 people. In the United States, there are about 33 counseling, clinical and school psychologists per 100,000 people, according to data from the Bureau of Labor Statistics in 2005. 
"In Argentina a very important battle was won, which was giving space to emotional health," said Gabriel Rolon, a prominent Argentine psychoanalyst.
9. It is also famous for its rich literary history
Known for its rich literary history and culture, Argentina has long promoted literature and reading and boasts the second largest publishing industry in the region. It has also produced some of the greatest writers in the Spanish-speaking world, including Ernesto Sábato, Jorge Luis Borges and Julio Cortazar.