Weird Al Yankovic Is Back to Remind Us That He Is King of the Internet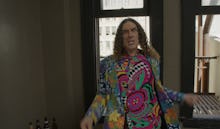 The news came yesterday afternoon, and by morning it was trending. Weird Al is back:
Monday, one day before the release of his new album Mandatory Fun, Weird Al Yankovic made good on his promise with the video for "Tacky," a bastardization of Pharrell's "Happy" starring Margaret Cho, Jack Black, Kristen Schaal, Aisha Tyler, Eric Stonestreet and Yankovic himself as some of the worst people on the planet:
Yankovic has a weird talent for skewering the cultural moments that often crystallize around pop songs. "Happy" was a global hit that spawned a U.N.-sponsored Worldwide Day of Happiness, a tearful interview between Pharrell and Oprah and a massive series of spontaneous videos from across the globe. Arguably the biggest testament to its success, though, is the fact that Weird Al decided it was worthy of mockery.
Weird Al never chooses his songs on popularity alone, though — generally they represent something more to him. The song's success was largely driven by social media — people shooting video of themselves happily dancing along to it, the millions of people who tweeted about what makes them happy for the U.N. event. It's cynically fitting, then, that Yankovic's song is about the kind of people intent on drawing attention to themselves, often tactlessly — "It might seem crazy wearing stripes and plaid / I Instagram every meal I've had," he sings. 
On his new album, his first since 2011, he looks set to skewer some of the biggest pop events of the last few years; so far, parodies of "Fancy" ("Handy"), "Royals" ("Foil"), "Blurred Lines" ("Word Crimes") and "Radioactive" ("Inactive") are expected alongside "NOW That's What I Call Polka!" — a song that is almost guaranteed to make your ears bleed. The king of Internet parodies is returning to his throne.
Update 7/14/2014: The list of featured comedians has been expanded.