President Obama Takes a Big Step Forward In Favor of Marijuana Legalization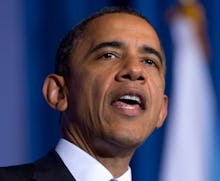 The president has taken a bold step in the marijuana legalization battle: On Monday, the White House said marijuana policy is a states' rights issue — a major policy point that empowers state and local governments to pursue legalization initiatives. It's an interesting move that underlines the executive branch's position on the issue, and opens the door for more legalization-friendly policies.
The Obama administration made the statement in response to Republican-led House legislation that would prevent Washington, D.C., from using local funds to decriminalize marijuana possession.
The White House said the bill "poses legal challenges to the Metropolitan Police Department's enforcement of all marijuana laws currently in force in the District."
The nation's capital — an incubator of creative policy initiatives that lay the foundation for other cities and states to copy these policies — has turned into a central battleground in the weed prohibition debate. According to the Obama administration, federal intervention into D.C.'s drug enforcement policies "undermines the principles of States' rights and of District home rule."
This is a clear statement from the White House affirming the administration's hands-off approach to states who wish to legalize medical or recreational marijuana, setting a precedent for future state-level initiatives nationwide to be free from federal intervention.
The legal battle: D.C. has previously attempted to change their marijuana laws but efforts have been hindered by congressional Republicans. As Mic's Eileen Shim previously reported, "because D.C. exists in a limbo when it comes to governmental representation, there are often financial complications when there are conflicts between the D.C. City Council and Congress. In March, the council voted nearly unanimously to decriminalize possession and consumption of small amounts of marijuana. Last month, House Republicans decided to block funding for this law."
This story has been updated.