Miss Idaho's Bikini Photo Is Going Viral Thanks to an Unusual Accessory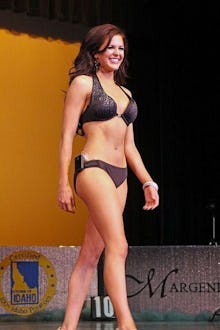 On July 12, Sierra Sandiso became Miss Idaho 2014. Even though Sandiso impressed the judges in every category, there was one part about the swimsuit competition that has everyone talking: her insulin pump. 
Image Credit: Susan Hessing Photography/Facebook
Twenty-year-old Sandiso was diagnosed with type one adult-onset diabetes in 2012 and before the Miss Idaho competition, she grappled with doing a pageant with a medical device visibly attached to her body.
"I didn't want people to see a weird-tubey-machine-thing attached to me all the time, and could not wrap my head around having a medical device on my body for the rest of my life", she wrote on her blog. 
But Sandiso was inspired by Miss America 1999, Nicole Johnson who wore an insulin pump when she competed, though it wasn't visible. Sandiso decided that if Johnson could prove to the world that she was beautiful with a pump, then she could too. 
Taking it to the Internet. After winning the Miss Idaho crown, Sandiso took her story to social media. She posted the above photo to Facebook, where it soon went viral. 
"My message to everyone, diabetic or not, is that we all have something that doesn't 'measure up' to the beauty standards set by the media — and that is okay! It does not make you any less beautiful," Sandison wrote in a note attached to the posted photo. 
Her post set off a hashtag frenzy with #showmeyourpump, prompting fans and admirers to do just that.
The beauty queen's story is reminiscent of Bethany Townsend who bravely posted a bikini photo of herself with her colostomy bags and set off her own social media empowerment campaign in early July. 
Though not the first women to stand up to stigmatized versions of beauty, Townsend and Sandiso are inspirational figures gaining momentum in the public eye for one reason: Society is wising up to what beauty actually is. It's not perfect, unblemished or unflawed; sometimes it's just the opposite: imperfect, blemished, flawed and — most importantly — confident.