The First Official Trailer for 'Dear White People' Is Here and It Is Hilarious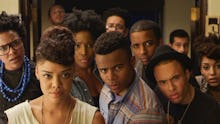 Dear White People was already angling to be one of the most topical, important and hilarious comedies of the year after tantalizing audiences with an electric teaser trailer last month (which has been viewed nearly 1.5 million times) and an excellent series of tongue-in-cheek PSAs. With the official trailer released today, it cemented itself as just that.
The trailer expands on what we can expect from the plot and the ensemble cast, and it looks fantastic. The story follows four black students and their wider group of friends at a predominantly white Ivy League school. After an "African-American"-themed party is thrown by white students, riots break out and the race for student president suddenly becomes far more intense, as institutional favorite Troy is thrown up against politico and radio presenter Samantha. What emerges seems to be a full commentary and skewering of not just race in the movies, but race in America. 
Image Credit: Dear White People
The cast also includes Teyonah Parris as Coco, who seizes on the controversy to further her broadcast career, and Tyler James Williams as Lionel, who is recruited to write undercover on the mostly white student paper.
Dear White People hits theaters Oct. 17.