Sia Just Took a Huge Step Forward for Women in Music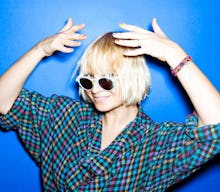 Sia got married last weekend, but you probably didn't know that. In fact, the media isn't even sure it happened. Needless to say, that's all a little unusual for a chart-topping female pop singer who recently had the No. 1 album in America and currently claims the ninth most popular song in the country. But that reveals the one big truth about Sia: She's a quiet revolution because she represents a shift in how we think about female artists — not as performers and objects, but as creators and humans.
Women in this industry are rarely seen as true creators; they're instead judged on everything but their music. Female musicians are constantly fighting to be noticed for something other than their image. In a study conducted by Female Pressure, an international collective of female artists, women "comprise only 9.3% of artists listed on music label rosters." Those artists are often treated as nothing more than a pretty face and a heavy dose of auto-tune. In a recent What Culture piece entitled "10 Musical 'Artists' that the World Doesn't Really Need," the writer includes Katy Perry, Kesha and Lady Gaga. He spends most of his time discrediting the latter two, but the "redeeming" quality that he mentions in each case is that they have a stake in some of their lyrics — as if that's especially rare for a woman artist.
All that might give you a sense of why, when asked how she liked being famous, Sia responded, "It's horrible." In a recent "Anti-Fame Manifesto" written for Billboard, she described the media as a "mother-in-law," critical and intent on stifling female empowerment. Sia wrote, "I might want to see what is happening on the news channel, or on CNN.com. But I couldn't. Because I would know that I might run into that mother-in-law there, sharp-tongued and lying in wait for my self-esteem. She questions things I had never dreamed of feeling insecure about prior to meeting her."
That's the attitude that's had her hiding behind other stars, giving them her songs (see: Rihanna's "Diamonds") while she defends her privacy. But she isn't playing that game anymore.
For years now, we've directed our attention at everything but a female musician's music. With the rise of MTV and the increasing importance of an artist's image along with it, musicians such as Madonna, Cher and Lil' Kim went for an opposite tactic, playing character versions of themselves who used their sexuality as a means of grabbing attention and "owning it" instead of fighting it.  
But Sia does the opposite: She deflects all attention to anything other than her music. She has intentionally effaced her public image so her audience can only give her music any mind. She performed live on Late Night with Seth Myers, lying face down on a bed as Lena Dunham danced around the stage. In all live appearances, she wears the famous wig from her album cover. As Rebecca Sheehan of the Conversation puts it, "symbolizing herself through a wig that is easily replicated and switched between various users, she refuses norms of female beauty, plays with gender and draws attention to identity as a performance." Basically: She's a badass.
All this has allowed Sia to establish herself as the lone craftswoman behind her music. Increasingly, that's an identity female musicians are trying to insist on — but none so successfully as Sia. When rapper Nicki Minaj took a stand against female musicians who "let men put words into their mouths" by writing lyrics for them (she was allegedly addressing rumors that T.I. is a ghostwriter for Iggy Azalea), Minaj shed light on an issue that has been swept under the rug in the music industry, and she got slammed for it.
It's true, though: You hear of maybe a small handful of women who sit down and jot lyrics into their notebooks — looking at you, T. Swift — but otherwise the credit for rhymes and rhythms is given to big-name male producers or collaborators. Solange Knowles shared this frustration with the Toronto Sun after receiving little to no credit for her collaboration with Dev Hynes on her EP True. "I find it very disappointing when I am presented as the 'face' of my music, or a 'vocal muse,' when I write or cowrite every fucking song," she said. "Sexism in the industry ain't nothing new."
But Sia's masterful control of her own artistic identity is.
Image Credit: Tumblr
Her rise to the top is a major demonstration of women's creative agency and power, and that extends well beyond the realm of pop music. More and more, it has become vital to an artist, musician and writer's credibility and popularity for her to be able to claim sole responsibility for her work. Women such as Girls creator Lena Dunham and actress/writer Mindy Kaling are seen as encouraging women to be unafraid of climbing to success on their own, and to swat away at the men who breathe down their necks.
The title of Kaling's new book, Why Not Me?, comes from a lesson her mother taught her when she was young, about welcoming challenge and dreaming big. Sia proves that women should ask themselves this question more often — that if they do, the payoff could send them to the very top, on their own terms.