LeBron James Apologizes to His Neighbors With a Personalized Gesture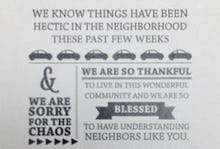 Long before LeBron James announced that he was "coming home" to the Cleveland Cavaliers, journalists and fans had started making the rounds of his Akron, Ohio home to get any whiff of Decision 2.0. The #LeBronWatch that followed made the commotion in his neighborhood only worse, with cops having to direct traffic and the hundreds of people outside his Idlebrook Drive home.
But his neighbors aren't complaining. Especially after the four-time NBA MVP sent them a dozen cupcakes on Tuesday night, apologizing for the chaos.
"We know things have been hectic in the neighborhood these past few weeks and we are sorry for the chaos," the note reads. "We are so thankful to live in this wonderful community and we are so blessed to have understanding neighbors like you.
"As a gesture of our gratitude and appreciation, our family wants to give you something that is meaningful to us, our foundation's cupcakes. We hope you enjoy the treat!"
The note is signed off — Savannah. LeBron. Bronny. Bryce — in the signature family man spirit that James loves to embrace. 
An image of the note first appeared on Reddit and multiple of his neighbors tweeted about the cupcakes that were delivered by Fairlawn's Baker Blvd. Decadent Desserts on Tuesday night to the families in the Bath Township. James had bought his Bath Township property in 2003.
Image credit: Reddit
"I thought it was really great of him to do that, he's never done anything like that in the past," Bath resident David Galehouse told Beacon Journal news partner WEWS. The neighbors are now getting messages from everyone from Good Morning America to ESPN to use the images. "Now I know what being a Twitter celebrity feels like," one of James' young neighbor said after his phone started blowing up with messages. 
Six of the cupcakes were cherry cola and the other half were chocolate chunk, both flavors exclusively made by Baker Blvd. Decadent Cupcakes & Desserts, who then turn 50 percent of sales to the LeBron James Family Foundation. That money goes to the non-profit group's programs to help raise graduation rates for struggling families and students. Every piece ($2.25) comes with an "I Promise" wristband, similar to one worn by the basketball star to acknowledge a commitment to community.
James, who went to watch the World Cup straight after announcing his move from Miami, is currently in China on a promotional tour.