50 Things We'll Never Forget About the Greatest World Cup Ever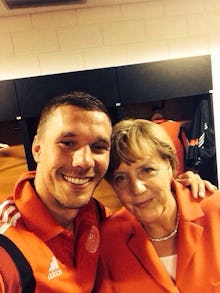 1. The anti-gambling PSA that backfired spectacularly.
2. Brazilian legend Ronaldinho, passed over for this year's World Cup team, renting out his Rio de Janeiro house via Airbnb.
4. Leonardo DiCaprio trying to blend in the Maracanã crowd.
5. Robin van Persie's golazo vs. Spain — and the Univision call.
6. Colombia's goal celebrations.
7. How Brazil's neighborhoods sounded when their teams scored.
8. Cristiano Ronaldo's face after Germany's third goal in a 4-0 thrashing.
9. Lukas Podolksi's selfie with Angela Merkel after the match (which presaged the second).
12. Tim Cahill's golazo vs. the Netherlands.
13. Spain's spectacular capitulation.
14. This chart of the water usage in Berlin during Germany-Portugal match. Lots of flushing at half and full time.
15. The Greek players who turned down their World Cup bonuses and asked the Prime Minister to buy a new training center instead.
16. Costa Rican president Luis Guillermo Solís, the Ticos' biggest cheerleader.
17. Diego Maradona calmly observing Suarez's second goal vs. England as a neutral.
18. Suarez getting mentioned on EastEnders after knocking England out of the group stage.
19. Rihanna's tweets.
20. Messi's stoppage-time winner to beat Iran and Mark Donaldson's call for ESPN Radio.
21. The scene at El Ángel de la Independencia in downtown Mexico City after win over Croatia.
22. The Norwegian man who wagered five bucks at 175/1 odds that Suarez would bite someone.
23. Colombia's Faryd Mondragon entering against Japan to become oldest player in World Cup history at 43.
25. Obama watching U.S.-Germany on Air Force One.
26. This cartoon that appeared in a Belgian newspaper before the U.S.-Belgium game.
27. Argentine commentator Pablo Giralt crying after Ángel di María's 118th-minute winner vs. Switzerland. 
29. The Greek supporters who cheered for Fanis Gekas, who missed a critical penalty vs. Costa Rica, upon the team's homecoming at airport.
32. The gigantic bug that landed on James Rodriguez after his goal vs. Brazil.
33. Four words: Luis Suarez nipple clamps.
34. The lone girl in Paris during Germany's win over France.
35. This brilliant send-up of ESPN's World Cup coverage.
36. How Neymar's injury brought a nation to tears.
37. American and Iranian fans celebrating together in Brazil.
38. James Rodriguez's selfie at Colombia's homecoming party.
39. The mind games of Tim Krul during the Netherlands' shootout victory over Costa Rica.
Image Credit: Reddit
40. How the BBC had to clarify the Germany-Brazil score because it was just so incredible.
41. The fiery headlines after Brazil's soul-crushing loss.
42. This Brazilian fan after the Germany defeat.
43. How the best video of the pitch invasion during the World Cup final was shared by ... LeBron James.
44. These astronauts watching the final from space.
45. Algeria's players reportedly donating their World Cup bonuses to the people in Gaza.
46. The Germans watching their team from the biggest living room in the world.
47. How this deaf and blind Brazilian fan followed his team.
50. How the best team outtrumped the best player in a final to remember.
Image Credit: Getty Images