Meet the Man Who Has Snuck Into 50 Music Festivals in the Past 5 Years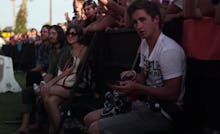 If you go to Bonnaroo now, you can buy a "Roll Like a Rockstar" package. For a hefty sum, you can skip the tents and the mud, and sleep in an air conditioned tour bus with a fully stocked mini-fridge and a 24-hour a day concierge.
But it turns out there's one guy who actually still knows what it means to roll like a rock star — one guy who's willing to fight back against the corporatization of rock and roll by sleeping beneath port-a-potties and hopping trains across America with Mumford & Sons, just because he needs to be as close to the music as possible. That man is Marcus Haney. He's snuck into 50 festivals in five years, and now he's releasing a movie. In the process, he's bringing life back to music.
(The video has been removed from YouTube due to copyright claims.)
Over the past few years, the true spirit of music festivals has been lost. If you're going to a festival like Coachella or even Bonnaroo, you should prepare to see hipsters galore in Indian headdresses, getting their hair washed at the Garnier Fructis booths. That's not how it was meant to be. Festivals like Woodstock and the Isle of Wight were originally about community and political and sexual equality — not corporate bottom lines and goons fingering female crowd surfers. Between all that and the skyrocketing ticket prices, it's harder than ever for listeners to feel close to the music.
On the bio of his website, the young Haney sums it up pretty well, "Marcus Haney belongs where he doesn't belong." He has snuck backstage at fests across the world, fueling his passion with music photography, videos and connections. Early in his illicit lifestyle, he caught the eye of Mumford & Sons, who swept him up on a whirlwind tour on the Big Easy Express and then again with their label-mates, Bear's Den, on their cross-country VW van tour. And throughout the process, he's come of age while being raised on the last shred of counter-cultural authenticity that today's music scene can offer.
"The trailer makes the film out to be about a guy sneaking into festivals, but it's really a coming of age story set in a music world," he told Noisey after the rush of press around No Cameras Allowed. "It's a love letter written to these festivals, in a way. And it shows them in such a great light that my goal is that people will see my film and then go and experience live music on their own. There's no way you can translate the live music experience on to film."
But, to some extent, he's captured the best of it. We'll always have live music to guide us when we're young — to help us find ourselves against the system. Haney is just here to remind us of what we're losing, and to help us get it back.