Ariana Grande, Nicki Minaj and Jessie J Just Released the Greatest Pop Collaboration of the Year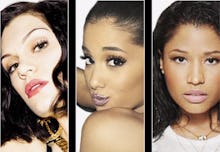 It's official: 2014 is the year Ariana Grande became a pop legend. It's the year Nicki Minaj was crowned as the greatest female rapper for the fifth consecutive year. And it's the year Jessie J brought Lady Marmalade back to life with the epic "Bang Bang" featuring all three. 
In pop music, the female collaboration has been having a forceful and empowering resurgence. Iggy Azalea and Charli XCX ruled the charts with "Fancy." Grande almost gave Azalea another No. 1 with the record-breaking "Problem." Demi Lovato and Cher Lloyd joined forces for "Really Don't Care." And Miranda Lambert and Carrie Underwood managed to crack the bro-heavy country charts with "Somethin' Bad." But the latest collaboration, which leaked last night and was posted Tuesday morning, in classic Grande style, blows everything else out of the water.
Jessie J recruited Grande and Minaj for "Bang Bang," a real, ahem, banger off her forthcoming, as-yet-untitled follow up to 2013's Alive. The track, which the trio has been teasing on social media for a few weeks now, immediately made some serious waves after its leak, with EW going so far as to ask, "It's not too late to crown the song of the summer, right?" Between that and Grande's subbing of Minaj for Azalea's featured rap spot off "Problem," we can only imagine Azalea isn't too happy about this.
Sonically, "Bang Bang" has everything. Grande harmonizes with herself, fulfilling a dream you never knew you had. Minaj spits a fiery verse about Moscato and winning the lotto before taking a cue from the Black Eyed Peas School of Pop Music — when in doubt, spell something! — around the 2:10 mark. But Jessie J is the real star, delivering what is undeniably the best vocal performance of her career.
It's all tied together with huge drums, booming bass and throwback, "Ain't No Other Man" brand of production (courtesy of, you guessed it, Max Martin) that's proving to be chart gold these days.
It's a smart move for all three women, as each has an album coming out later this year — Grande's My Everything (which features "Bang Bang" as a bonus track) is out in August, and Minaj's The Pink Print should release before the end of the year. But it's Jessie J, who has yet to see a great deal of success in the United States, who has the most to gain from "Bang Bang." This should more than establish her as the pop A-lister she already is in the U.K.
As with other earth-shattering female collaborations, it's the communion of three "divas" that gives "Bang Bang" its true potency. Since it's been a couple years since VH1 showed us that divas really can all get along, it's tracks like these that transcend the feuds and remind us just how damn good it sounds to get a few powerhouse women in the same room.
Let's hope this trend of ladies helpin' ladies continues and that, by the end of the year, the pop gods deliver the Beyoncé/Katy Perry/Mariah Carey collaboration we all deserve. In the meantime, you can always play "Bang Bang" on repeat.