Ariana Grande and Iggy Azalea Just Made Music History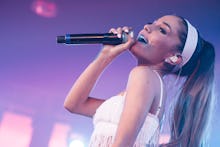 Sometimes it's easy to overlook the fact that the girl who played Cat Valentine on Nickelodeon while you were growing up is currently blazing a trail towards the future of pop music.
Nevertheless, on Sunday, Ariana Grande and Iggy Azalea's "Problem" broke ground by earning the first No. 1 on the newly-debuted Official U.K. Singles Chart. It's a historic moment — this chart represents a major step towards achieving a truly modern understanding of music popularity as it features both streaming and digital sales.
This infectious pop song has already been setting records for months. When Grande released "Problem" on April 28, it rapidly claimed the No. 1 spot on the iTunes chart. In 37 minutes, it hit its first mark as one of the fastest-selling singles in history. A little less than a month later, when the song rose to No. 2 on the Billboard chart, it made featured artist Azalea the first artist since the Beatles 50 years ago to claim the top two spots on the chart simultaneously with her first two entries on it.
Now it's the first No. 1 on the new British charts, which puts the song at the center of a crucial moment in music history. These charts, which count 100 streams as equivalent to one download (Grande has more than 62.1 million on Spotify alone, five of which occurred on this computer during the writing of this article) are a necessary innovation. Last year, iTunes reported the first decline in sales since they opened in 2003. In the first half of 2014 alone, digital album sales are down 11.6% from the first half of 2013. Meanwhile, streaming of audio and video has leaped 42% over the same period. As a result, tech giants Amazon, Google, YouTube and Apple have all made news in the last couple months as they race to acquire the best streaming and curation services on the market.
The major upset in the industry's distribution has left much uncertainty over what, exactly, effectively quantifies popularity anymore. "Problem," with its ecstatic builds and brash horns, is a welcome part of a bold moment in music history — a reminder of what it feels like when a great pop song captures the global ear and a moment in time.
As Grande said when she heard the news: "I'm so happy. Yay." 
Correction: July 7, 2014 - An earlier version of this article incorrectly implied the Billboard charts don't count streaming plays, which they do. The innovation was in the British charts.