This Is the Answer to Barbie You've Waited for — And It's From the Company You'd Least Expect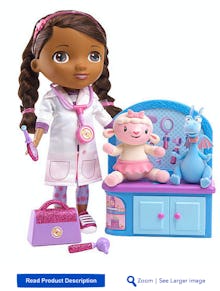 For decades, it seemed like young children haven't been able to catch a break when it comes to alternatives for dolls like Barbie, an iconic toy that nonetheless sends the unfortunate message that in order to be loved and celebrated, one must fit within a narrow, white and unattainably thin image and aesthetic. Alternative prototypes, while pioneering a variety of different body types, have themselves struggled to create diverse options that also sell.
This industry problem may have found a solution, however, in the Doc McStuffins doll, part of the Disney Junior franchise. And in a surprising twist, especially within a sales market that often scoffs at making dolls that reflect a more inclusive frame of mind, the runaway hit show character's merchandise, made by Just Play, is well on its way to becoming a billion-dollar enterprise.
Last year alone, Doc McStuffins items amassed $500 million in sales and, this year, the franchise could become the all-time best-selling doll based on an African-American character, according to industry experts who spoke with the New York Times.
"Its blockbuster success reflects, in part, the country's changing consumer demographics, experts say, with more children from minority backgrounds providing an expanding, less segregated marketplace for shoppers and toymakers," the report noted.
While it might not seem like a doll can make much of a difference, creating toys that reaffirm self-worth in all colors and shapes will be more important than ever. According to 2012 Census data, nearly half of all newborns were racial or ethnic minorities. This also means that toy companies that can capitalize on this increasing desire for dolls featuring a wider array of skin tones, cultural representations, shapes and sizes will be making a savvy business decision.
Image Credit: Getty
It's important to remember that many of today's parents — now the ones weilding the buying power — were likely unable to play with dolls of their own complexion in the aftermath of America's segregation policies. Indeed, Matell's flagship doll, released 55 years ago in March, attempted to include a darker-skinned version named Francie in 1967, but she was pannedm in part for what critics argued were clearly Caucasian features. Later on, a black female companion doll was created as a "friend" to Barbie, a doll known as Christie. There's never been a complete, full embrace by Mattel for a Black or muticultural alternative line to Barbie, which makes the competition all the more captivating and refreshing.
Image Credit: Getty
Doc McStuffins, a little girl beloved on her Disney show for her love of animals and playing doctor, is a win for all kids and parents who wish to help use toys and games not only for fun, but to also move America closer to a so-called reality of being post-race.