Ruth Bader Ginsburg Delivered the Ultimate Last Word on Hobby Lobby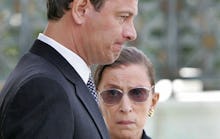 One of the most striking aspects of the recent — and highly controversial — ruling of Burwell v. Hobby Lobby was the fact that five men ultimately decided a case regulating what a woman can and cannot do with their bodies.
Supreme Court Justice Ruth Bader Ginsburg made sure she drove that point home in her scathing 35-page dissent to the ruling, arguing against her colleagues' position that some privately-held corporations should have rights usually reserved for humans. 
It turns out, Ginsburg wasn't done. In an new, exclusive interview with Katie Couric, the 81-year-old jurist confessed she digs her "Notorious R.B.G." status, and more importantly, that she doesn't think her male colleagues had any idea of the Pandora's box their ruling would open. 
"Contraceptive protection is something every woman must have access to, to control her own destiny," Ginsburg told Couric, adding that the decision allowing an employer to refuse to cover those contraceptives "meant that women would have of that for themselves."
Following up, Couric ask Ginsburg: "Do you believe that the five male justices truly understood the ramifications of their decision?" "I would have to say no," the diminutive yet steely Brooklyn native replied.
This isn't to say that Ginsburg has given up on her colleagues — not yet, at least.
"The justices continue to think and change so I am ever hopeful that if the court has a blind spot today, its eyes will be open tomorrow," she noted. 
"I certainly respect the belief of the Hobby Lobby owners," Ginsburg told Couric. "On the other hand, they have no constitutional right to foist that belief on the hundreds and hundreds of women who work for them who don't share that belief. I had never seen the free exercise of religion clause interpreted in such a way."
Her feisty spirit and straight talking reputation garners the respect of many. The Internet loves Ginsburg, reprinting her likeness on it t-shirts, creating the now widespread "Notorious" moniker and its related memes. She has a hashtag, "fear the frill," and a song dedicated to her Hobby Lobby dissent.
Reaffirming why she has so many fans, Ginsburg admitted to Couric that she finds the whole meme amusing. "I will admit I had to be told by my law clerks, what's this Notorious, and they explained that to me, but the Web site is something I enjoy, all of my family do," she said on the show.
As for the future, Ginsburg assured Couric that rumors she may be retiring soon are overblown. "People know that I'm here to stay, and my answer is I will do this job as long as I can do it full steam."
Image Credit: NotoriousRBG