CBS Just Made History for Women in Sports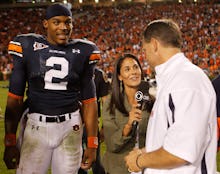 Cheers to CBS: In a landmark decision, the most-watched network on television is launching the first all-female sports talk show in American history.
Image Credit: Getty Images
The weekly program, which will run on CBS Sports Network starting in September, stands to be a refreshing counter to male-dominated competitors like ESPN's Around the Horn and Pardon the Interruption. The untitled show will feature an all-female cast, and will be produced and directed by women.
"We have been discussing and developing the show for well over a year," CBS Sports President David Berson told The Big Lead in an exclusive statement. "Internally and externally, there's been universal enthusiasm and across-the-board support."
What to expect: The format and stars are still under wraps, but anonymous sources provided The Big Lead with six names expected to appear regularly:
1) Lesley Visser. Veteran CBS sportscaster and the first (and only) woman ever inducted in the Pro Football Hall of Fame.
Image Credit: Getty Images
2) Dana Jacobson. Former ESPN sports analyst and current CBS Sports Radio co-host.
Image Credit: Getty Images
3) Amy Trask. Current CBS sports analyst and former CEO of the NFL's Oakland Raiders.
Image Credit: AP
4) Allie LaForce. Lead college football reporter for CBS' "SEC Game of the Week" coverage, and sideline reporter for CBS' NCAA men's basketball coverage since 2013.
Image Credit: AP
5) Tracy Wolfson. Former sideline reporter for CBS' SEC and NCAA tournament coverage, recently named the network's first NFL sideline reporter since 2006.
Image Credit: Getty Images
6) Jenny Dell. Former ESPN on-air reporter and New England Sports Network (NESN) Boston Red Sox on-field reporter.
Image Credit: Getty Images
What this means: This cast isn't the most ethnically diverse group, but it represents a huge step for an industry not known for gender inclusiveness.
Sports journalism is especially egregious. According to the Women's Media Center's "Status of Women in Media" report for 2014, only 9.7% of online and print sports columnists are women, down from 9.9% in 2010. In that same period, the number of female sports editors climbed from an embarrassing 6.3% to a still embarrassing 9.6%.
It doesn't help that 63% of bylines go to men at the nation's 10 most widely circulated newspapers, across all categories.
Image Credit: Women's Media Center
Plus: Female journalists in general face routine harassment and abuse, mostly at the hands of their male colleagues.
Slate reports that a 2013 online survey from the International Women's Media Foundation found that 64% of the 875 respondents faced "intimidation, threats, or abuse" on the job, while 46% reported experiencing sexual harassment, including "unwanted comments on dress and appearance."
An especially disturbing 21% — nearly one-forth — faced actual physical violence, "including being pushed, pinned down, or threatened and assaulted with weapons." An additional 13% had been sexually assaulted.
Nope. In sports, these attitudes are exemplified by a string of recent incidents, including the 2010 harassment of TV Azteca reporter Inés Sainz by the New York Jets and KNBR host Damon Bruce's misogynistic nine-minute rant marking sports as "a man's world," and claiming women have made it too "ultra-sensitive."
"There are very few — a small handful — of women who are any good at this at all," he said of female sports commentators in a 2013 recording.
But: If such barriers were meant to deter female sport journalists from excelling, they have failed.
The CBS show is a clear example of how hard these women have worked and how far they've come in a hostile, male-dominated field. It also reminds us how far the industry still must go to achieve gender equality.
In the meantime, add this to Becky Hammon's recent hiring by the San Antonio Spurs as an important victory for women in sports this month. 
h/t The Big Lead