One Striking Image Captures the Depressing Reality of the Michael Brown Shooting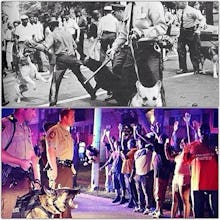 The news: There's something eerily familiar about this image from the Michael Brown shooting protests this weekend.
Image Credit: Twitter
Twitter user Mari Bailey posted it Sunday, and drew a striking connection to fraught relations between black Americans and the police over the past century.
The "progress" we've made leaves much to be desired.
Background: When the unarmed 18-year-old was shot and killed by a police officer in Ferguson, Mo., on Saturday afternoon, residents responded with vigils, protests and civil unrest.
KMOV St. Louis reports that nearly 300 officers from at least 15 local jurisdictions were summoned to quell the dissent. Two cops have been injured, with numerous stores looted, cars set ablaze and, according to law enforcement reports, gunshots fired at a circling police helicopter.
Today in history: Parallels have been drawn between this and responses to past cases of police violence against black people. Global Grind President Michael Skolnik issued this sobering reminder via Twitter on Sunday:
Brown's murder also comes less than a month after 43-year-old Eric Garner was choked to death by New York police on Staten Island. Along with the cases of Oscar Grant, Kimani Gray, Kendrec McDade and many others, these lend startling credence to claims of rampant police brutality targeting black boys and men nationwide.
More: The weekend's unrest originated from an incident whose details are still being unraveled.
St. Louis County Police Chief Jon Belmar claims that Brown's murder stemmed from a "physical altercation," in which the teenage victim allegedly shoved the offending officer into a police vehicle and fought with him over his service weapon, according to CNN.
The officer then shot Brown multiple times about 35 feet away from the car.
Image Credit: New York Daily News
However: This directly contradicts the accounts of multiple witnesses. Raw Story reports that Dorin Johnson, who was with Brown at the time of the shooting, told KTVI the policeman instigated the encounter.
"A police officer squad car pulled up," Johnson said. "And when he pulled up, these was his exact words, he said, 'Get the fuck on the sidewalk.' And we told the officer we was not but a minute away from our destination, and we would surely be out of the street."
Another witness, Piaget Crenshaw, added that Brown and Johnson were running away after the officer fired a first shot. She claims Brown had his hands up in surrender when the officer murdered him.
"They shot him, and he fell," she told KTVI. "He put his arms up to let them know he was compliant, and that he was unarmed. And they shot him twice more, and he fell to the ground and died."
What comes next: The pain and devastation Brown's murder has visited on his family is incalculable. Twitter users' remarkable ability to report on and contextualize the incident only reinforces that such horrors have plagued black America throughout history.
U.S. Attorney General Eric Holder and the NAACP have both called for external oversight of local investigations into the shooting, while "hacktivist" group Anonymous has announced they'll be watching developments closely.
Such accountability is an important step toward legal recourse. Meanwhile, a true sense of justice remains as elusive today as it was 50 years ago.