10 Iconic Roles That Show Robin Williams' Incredible Range as an Actor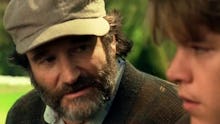 Robin Williams, Academy Award winner and comedian extraordinaire, died on Monday from an apparent suicide. Williams was known for a hilarious, near manic comedic energy, that breathed life into some of the funniest and most memorable film and television roles of the last few decades. 
With a career that spanned comedy and drama, stand-up, television and film, Williams will be remembered for, above all else, making us laugh. Here's a look at some of his most iconic roles. 
1. 'Mork & Mindy' (1978-1982)
The television role that launched Williams to stardom was playing Mork from Ork, an alien sent to Earth to study human behavior. Mork & Mindy was a spin-off of Happy Days where Williams first played the extraterrestrial. Gary Marshal allegedly cast Williams because "he was the only alien to audition." 
2. 'Good Morning, Vietnam' (1987)
Even if you haven't seen the film you probably have said, or heard, Williams' famous line "Goooood morning Vietnam." Playing disk jockey Adrian Cronauer stationed in Saigon, the role allowed Williams to showcase his truly unbelievable voice acting and impersonation abilities. The New York Times called it a "breakthrough" for Williams, calling the movie a display of "his restless, full-frontal comic intelligence." He received his first Academy Award nomination for the role. 
3. 'Dead Poets Society' (1989)
Williams was nominated for his second Academy Award thanks to his portrayal of John Keating in the classic film Dead Poets Society. His role as a teacher who inspires his teenage students and instills in them a love of poetry, is iconic. "The barbaric yawp" scene, opposite a very young Ethan Hawke, defines the sentiment of this classic. 
4. 'The Fisher King' (1991)
Playing Parry, a somewhat crazy homeless man and pseudo-prophet, Williams earned his third Academy Award nomination. The role is a mix of Williams' power to both be understated and manic, sometimes even unbelievably at the exact same time.  
5. 'Hook' (1991)
Twenty-somethings today will likely remember Williams from Hook when Williams played Peter Banning, the grown-up version of Peter Pan. A classic scene, trading insults with the lost boys, insults like "substitute chemistry teacher" and "math tutor" likely fueled insults you traded too. The role was an example of what Williams captured best; a child's energy in grown-up clothes. 
6. 'Aladdin' (1992)
Playing the Genie in Aladdin cemented Williams as a staple in our childhood, not to mention crystallized a legendary voice performance. Genie was, of course, the very best part of Aladdin and "Friend Like Me" is a song that once puts the spotlight on the extraordinary talent that Williams had, even when you weren't seeing the real Williams on screen. 
7. 'Mrs. Doubtfire' (1993)
Mrs. Doubtfire saw Williams in full drag, giving him the chance to yet again show off his very impressive voice work. The plot: dressed as a middle-aged Mrs. Doubtfire, Daniel Hillard tries to win back his entire family by posing as his children's nanny. It takes a real gift of charm and humor to take a somewhat creepy premise and turn it into a role that is touching, hilarious, and enduring.  
8. 'Jumanji' (1995)
The "what year is it" scene is one of Jumanji's most memorable. Again the film saw Williams in a boyish role, playing a boy all grown up after 26 years stuck inside his jungle and explorer-themed board game Jumanji. 
9. 'The Birdcage' (1996)
Playing Armand, one half of the comedically brilliant couple Armand and Albert (Nathan Lane), Williams played the more traditionally masculine to Lane's flamboyance. One of the film's most hilarious scenes comes with Williams teaching Lane his tricks to pass as macho. "How about those Dolphins?"
10. 'Good Will Hunting' (1997)
We remember Williams for his comedic roles, but the dramas cannot be undervalued either. The conversation in Good Will Hunting where Williams' character tells Will (Matt Damon) how he met his wife, is heart-tugging, dramatic and poignant and true enough to win Williams his only Oscar. 
Correction: August 14, 2014
An earlier version of this article incorrectly stated that Williams' first Academy Award nomination was for Dead Poets Society and his second nomination was for the The Fisher King. Williams' first nomination was actually for Good Morning, Vietnam and The Fisher King nomination was his third.