Broadway Is About to Welcome Its Most Important LGBT Show Yet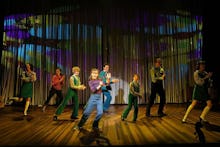 Broadway's upcoming season features a show that will entirely change the way we talk about lesbians on stage.
Fun Home is a musical adaptation of Alison Bechdel's graphic novel of the same name. It arrives on Broadway in 2015 after a sold-out, critically acclaimed run at the Public Theater. The show, which was nominated for this year's Pulitzer in Drama, is the most daring, relentless analysis of homosexual identity on the New York stage right now. 
The set-up seems simple enough, but the results are anything but. Alison, the protagonist, recounts her coming out and early lesbian experiences for the audience, playing them against scenes of her father's discreet homosexuality and her mother's melancholy. Three actresses play her, as a child, as a student and as a middle-aged woman.
Unlike the sparse selection of lesbian-inclusive musicals, which usually just feature already established couples (The Color Purple, RENT) or seething, closeted admirers (Grand Hotel), Fun Home is unashamedly about an individual and her personal experience. It is also, as June Thomas of Slate points out, the first Broadway show to have a butch lesbian as its lead.
The show examines sexuality with a crucial stoicism and openness. Both Alison and her father Bruce are introspective and meditative, but never with each other's help: Alison recounts the events of the show knowing her father ultimately commits suicide, and the two are never able to help each other address the complexities of their sexualities. "Telephone Wire," the dramatic peak of Act 2, encapsulates this pain. The last time Alison ever sees her father, they go for a drive together. "There's a moment I'm forgetting, where you tell me you see me," she sings. He never does.
The show's stand-out solo crystalizes a moment of individual awakening. Alison, now in college sleeps with her lesbian friend Joan. The morning after, she sits up in bed and sings that she'll be "changing [her] major to 'sex with Joan.'" It's a beautiful, sweeping lament to realizing you just cemented yourself as something you had only considered abstractly before. Her comedic fanaticism morphs instantly into panic halfway through, introspection replacing innuendos: "I'm not prepared. I'm dizzy, I'm nauseous, I'm shaky — I'm scared."
Broadway's 2014 season has greatly improved its representation of the LGBT community after a dismal 2013, with a gay couple in If/Then, the trans-centric Hedwig and the Angry Inch and the sexually mercurial revival of Cabaret. But while Cabaret and Hedwig both feature LGBT leads, sexuality is not so much an element of discussion as much as it is a stamp of being an 'other' in the world. Hedwig is defined by her botched gender reassignment but it is a launching pad for other storylines. Cabaret features several bisexual characters, but it either exists for a cheap gag or as a part of building the ensemble as dissidents, outsiders and general hedonists. Cliff's relationships with a man (Bobby) and a woman (Sally) don't have any real effect on his character development.
Besides them, the closest to an outright lesbian character currently on Broadway is Matron Mama Morton in Chicago, whose interest in women is never more than a euphemism here or an innuendo there.
When Legally Blonde came to Broadway, Enid Hoops, the activist, feminist law student, was overtly characterized as lesbian, but only for comic effect. As AfterEllen.com perfectly explains, Enid is made into "a walking, talking, singing lesbian stereotype. In contrast to the beautiful (and straight) heroine, Elle, Enid is overweight and has no fashion sense, sporting Converse sneakers with a frumpy pantsuit."
Characters like Enid, whom Ben Brantley described as "routinely the object of the show's most unsavory jokes," are not uncommon in Broadway's LGBT characters. Take the "gay best friend" in First Date, also described in a New York Times review as "a noxious stereotype." A show with multiple homosexual characters, two of whom are the leads, is a real rarity in this current theatrical landscape. With its autobiographical core, it is also the most honest portrayal possible of the issues Bechdel herself recounts. Bechdel's curation of her life events is the framework for this adaption, in which Alison draws the events that simmer away on stage, keeping it frank, raw and self-aware.
Fun Home also makes serious headway in exploring childhood discovery of homosexuality.  As an adult she has accepted it, as a teenager she explores it and as a child she knows there is something but cannot quite describe it. Young Alison gets two solos, and both explore homosexual identity in young children: In one, she talks about her desire for androgyny, and in a second, she sings a love song to a butch lesbian deliverywoman she sees on a trip to New York. These numbers would be unusual for any Broadway show, but to have a 10-year-old actress sing them is revolutionary.
This season's slate of titles proves beyond a doubt what a Broadway show can tackle. Hopefully the considerable hype around the original run of Fun Home will make this show and shows like it sell well, so audiences can embrace its message of personal acceptance for as long as possible.