3 Reasons Mo'ne Davis' 'Sports Illustrated' Cover Is an Even Bigger Deal Than You Realize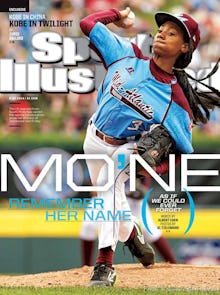 As Mo'ne Davis readies to take the mound Wednesday for the Taney Dragons in the Little League World Series (7:30 p.m. ET, ESPN), the 13-year-old from South Philadelphia is making not just headlines but magazine covers. Only the 18th girl to play in the tournament's 68-year history, Davis is featured on the cover of this week's Sports Illustrated. 
In the 60-year history of arguably the world's biggest sports magazine, a Little League player had never made the cover of the national edition. Mic looked back at the last 1,000 Sports Illustrated covers, from 2000 to 2014, and realized that that's not the complete story behind why the Davis cover is so iconic and destined to be remembered.
1. When there's a woman on the cover, she's almost always with a man — or in a swimsuit.
When a woman is featured on the SI cover, she's most often either in a swimsuit or accompanied by a man -- like UConn's Diana Taurasi with Emeka Okafor in 2003 or UNC's Rashanda McCants with Tyler Hansbrough in 2008. More recently, Lindsey Vonn and Julia Mancuso appeared on the cover with their medals and Andrew Weibrecht and Bode Miller for company in a March 2010 issue. One noted exception was auto racing driver Danica Patrick, who despite being a model appeared on a 2008 cover in neither a sexualized pose, nor with a man. 
Covers featuring actual female athletes by themselves are exceedingly rare, with only the U.S. gymnastics team (in 2012) and Hope Solo (2011) getting the call in recent years.
2. African-American women appear on the cover even less frequently.
The lack of female athletes from SI covers has been noted before. For their research published in the International Review for the Sociology of Sport last year, University of Louisville sociologists Jonetta D. Weber and Robert M. Carini looked at every national cover from 2000 through '11. Of the 716 issues, they reported that only 35 featured a female athlete, and only 11 had a female athlete of color.
Even counting all the regional editions in the last decade, Mic found only three African-American woman to appear on the front: Davis (this week), Serena Williams (in 2003 and '10) and, uh, Beyoncé. The precocious Davis — who is also the youngest athlete to ever nab the cover — has broken the glass ceiling of SI's coveted real estate in way that few other female athletes could. 
3. It bucks a trend that's only getting worse, not better.
The lack of women on SI covers seems to be getting worse with time. In the magazine's first decade of publishing, women were featured on 74 covers, or more than 12%. The 80s did fine too with Steffi Graf, Martina Navratilova and Chris Evert featuring several time. And Brandi Chastain's 1999 cover of that euphoric moment when she took off her shirt, is so well remembered that it was voted second most iconic cover of all time in a SI poll this month. 
But when Weber and Carini calculated the percentage for 2000-11, excluding the annual swimsuit issue, they found female athletes on less than 5% of covers.
In fact, in the last five years, only three female athletes have appeared solo on the cover. 
2009: 0
So what changed with Davis?
"Last week, this week, maybe next week, she's owned the sports conversation," SI managing editor Chris Stone said as the magazine made the announcement. "How often do you get to say this about a 13-year-old girl? It's the easiest type of story to identify as a cover story." 
Davis herself is far away from letting all the attention get to her.
"People were like, 'Oh, there are going to be people running up to you taking pictures' and I thought it was going to be a bunch of little kids. But it's grown-ups! And that's, like, creepy," she told the magazine for the cover story. 
Despite the plaudits for her 70 mph fastball, the teen phenom has said repeatedly that she really wants to play basketball and be the first woman in the NBA. Should Davis succeed, it won't be her last cover.